When it comes to environmental resilience, it's in there!
By Casey Anderson and Steve Findley
What does Thrive Montgomery 2050 say about the environment? To quote from an old ad for a popular brand of spaghetti sauce, "It's in there!" From climate change to improving air and water quality, preserving habitats and improving biological diversity, managing stormwater and protecting watersheds, the environmental goals and guidance in Thrive Montgomery 2050 are woven throughout the Plan.
As outlined in our last blog post, the wedges and corridors land use pattern retained from Montgomery County's first General Plan provides two critical components that help reduce greenhouse gas emissions and create resilience: compact growth and natural resource preservation. These components are linked: the more compact our growth, the more resources we can preserve. Compact growth makes more efficient use of land, places different land uses closer together to reduce car trips, enables non-motorized transportation options and public transit to operate effectively, and creates smaller development footprints that use building materials more efficiently and reduce per capita energy use. While growth is focused along our corridors, large areas in the wedges are providing space for agriculture and natural resource protection. The soils, forests, wetlands and other natural areas store and sequester carbon, and they protect watersheds and aquifers that feed into our drinking water supplies.  Additional recommendations for environmental resilience are woven into other chapters.
Compact Growth
Some of Thrive's most important environmental guidance is captured in the Compact Growth chapter.  One recommendation focuses on how we develop within the identified growth areas, by "encouraging infill and redevelopment to curb sprawl and bring areas . . . up to robust standards for stormwater management and other state-of-the-practice environmental standards."  In a few words, and without constraining future improvements in standards, this establishes that state-of-the-practice environmental standards will be used in our infill and redevelopment, improving environmental performance on each redeveloped site.  A second recommendation focuses on sustainably managing land outside of growth corridors "to increase biodiversity, improve the health of natural habitats, preserve privately owned forests, protect watersheds and aquifers, and improve water quality." A third recommendation is to "Support alternative clean energy generation, distributed energy, battery storage and grid modernization, and better facilitate composting/food waste recovery," key recommendations in mitigating climate change. Yet another set of recommendations focus on maintaining the agricultural and natural resource protection benefits of the Agricultural Reserve.
Design, Arts and Culture
Since the majority of our carbon emissions come from building energy use and transportation, how we develop in the future is just as important as where we develop. Thrive's Design, Arts and Culture chapter recommends "design strategies and retrofits to make new and existing buildings more sustainable and resilient to disruption and change," including promoting net zero/carbon positive buildings, biophilic design, on site energy-generation, adaptive reuse of buildings, and other actions to reduce greenhouse gas emissions from our buildings. The text explains: "Strategies for onsite energy generation, new tree plantings in redeveloped parking lots and along streets, and state-of-the-practice stormwater management will increase the resilience of the power grid and mitigate the negative effects of flooding and excessive heat, resulting in more adaptable development in the face of a changing climate." Sustainable design addresses climate adaptation and resilience as well as the need to reduce emissions.
Transportation and Communication Networks
Thrive's Transportation and Communication Networks section focuses on transforming Montgomery County's transportation network to prioritize moving people and creating connectedness over moving cars. This approach compliments the Compact Growth/Corridor-focused land use pattern by providing multiple modes of transportation, creating infrastructure that enables people to travel safely and effectively by transit, walking, biking, and rolling, reducing the need for travel by automobile. The chapter recommends redistributing road rights-of-way to accommodate walking, biking and transit facilities as well as landscaped buffers, street trees and stormwater management. These "Complete Street" designs recognize that creating better places for people also addresses climate change and water quality and serves the "Vision Zero" goal of making our roadways safer.  This chapter also includes a recommendation for expanded high-speed telecommunications networks to support telework as a way of fighting climate change and improving resilience while supporting equitable development.
Housing for All
Thrive Montgomery's housing chapter recommends support for a wider variety of housing types, including many smaller units that will be more energy efficient. Located in corridors as a part of Complete Communities, these units will help move us closer to our greenhouse gas reduction goals as well as advancing housing equity and making decent housing more attainable for all.  It also recommends that low and moderate-income housing should consider environmental performance, which will increase the affordability of housing for the residents while also improving environmental resilience. Infill and redevelopment with a variety of housing sizes and types can help to reduce greenhouse gas emissions by allowing people with a wide range of incomes to live close to the places where they work[1] while increasing socioeconomic and racial integration[2].
Parks and Recreation
Montgomery County's Department of Parks plays a crucial role in making the county more sustainable, healthy, and resilient. The goals and guidance provided in Thrive Montgomery 2050's Parks and Recreation chapter establish a vision for the management of nearly 14 percent of the County's land area, including some of our largest and most valuable natural resource areas. Through thoughtful stewardship of forests, meadows, streams and wetlands, our parks protect our water supply, clean our air, store and sequester carbon, conserve soils, and provide critical habitat for wildlife. Thrive highlights the value of parks for environmental management, but by no means does it rely exclusively on land under the stewardship of the Parks Department to provide essential environmental functions.
Measuring Success
Thrive Montgomery 2050 also recommends indicators and metrics to track progress toward achieving our environmental resilience goals.  Greenhouse gas emissions and measures of air and water quality are listed among the key indicators, and metrics in individual chapters include reduction in impervious cover and increase in area of impervious cover treated, miles of streams restored, and stormwater runoff treated, maintenance and improvement in measures of stream water quality, acres of farmland, natural habitats, forests and environmentally sensitive areas protected, and amount of tree canopy in the county.
Collectively, Thrive's recommendations establish a strong framework to help the county use its land and resources wisely, minimize the footprint of development, and make the county more environmentally resilient for our children and the generations of Montgomery County residents who will follow.
---
[1] Jones et al. 2018. Carbon Footprint Planning: Quantifying Local and State Mitigation Opportunities for 700 California Cities. Urban Planning (ISSN: 2183-7635) 2018, Volume 3, Issue 2, Pages 35-51.
[2] Bollay et al. 2021. Guidance for Smart Growth and the Urban Infill Policy, Prepared by the Sierra Club Urban Infill Task Force.
---
About the authors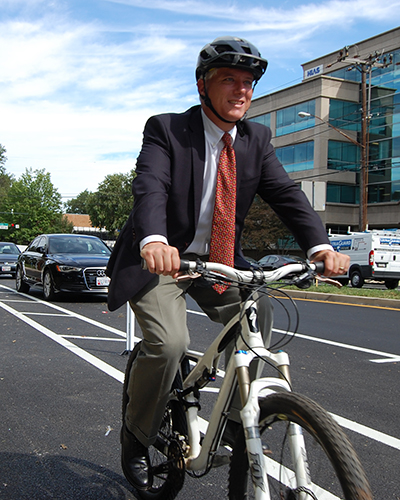 Casey Anderson has served on the Montgomery County Planning Board since 2011 and was appointed Chair in 2014. He also serves as vice chair of the Maryland-National Capital Park and Planning Commission, the bi-county agency established by state law that regulates real estate development, plans transportation infrastructure, and manages the park systems in Montgomery and Prince George's Counties.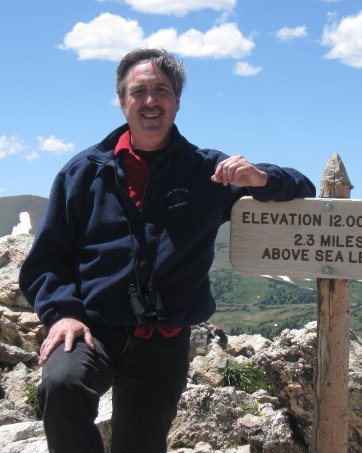 Steve Findley has held various positions with the Montgomery County Department of Parks and Montgomery County Planning Department for over 31 years. He began work with the Parks Department as a Natural Resources Specialist in 1990, moved to the Environmental Planning Division of the Planning Department in 1995, went back to Parks to become a Nature Center Director in 2000, and returned to Planning in 2008, where he now works as a Planner IV with the Midcounty Planning Division focusing primarily on environmental planning issues. Currently, he works on sustainability recommendations for Master Plans including modeling greenhouse gas emissions, and reviews developments for compliance with the Forest Conservation Law and other environmental policies and regulations. In 2020, he became a Certified Climate Change Professional, a credential granted jointly by the Association of Climate Change Officers and the State of Maryland.