Montgomery County's first General Plan, the "Wedges and Corridors" plan, helped make this one of the most desirable places to live and work in the United States. We built excellent parks and schools, preserved land for farming, facilitated the growth of urban centers and construction of mass transit, and shaped the development of attractive suburban subdivisions.
Today, however, our residents are older, more diverse, and less likely to live in traditional family arrangements. We have evolved from a bedroom community to a complex jurisdiction with urban hubs, mature residential neighborhoods, and rural landscapes. Competition for talent, jobs, and economic opportunities is much more intense. Technology is changing how we work, shop, and live, influencing planning and real estate development in unprecedented ways.
The combination of these changes compels us to take a clear-eyed look at our strengths and weaknesses. While the Wedges and Corridors Plan was visionary, its implementation in some cases produced unintended consequences and in others simply failed to anticipate challenges.
Beyond growth management
Thrive Montgomery outlines strategies to accommodate growth in ways that not only make room for new residents but also improve the quality of life for the people who are already here.
I've spilled a lot of ink on the subject of growth forecasts so I won't repeat that discussion except to note that while Montgomery County is growing more slowly than in the past we still can expect about more 200,000 people over the next 30 years. With 85% of our land already developed or otherwise constrained, that will be a difficult task by itself.
Thrive Montgomery outlines strategies to accommodate growth in ways that not only make room for new residents but also improve the quality of life for the people who are already here. This means not just managing growth but using it to solve problems.
Economic performance and competitiveness
Our quality of life depends on attracting and retaining employers and, in turn, the employees they need. Montgomery is in the 99th percentile of counties in household income and educational attainment but our economic performance has been slipping since the Great Recession of 2008.
The number of jobs in the county grew by 5% from 2004 to 2019 while 20 similarly sized counties across the country grew employment by an average of 21%. Montgomery County experienced the slowest rate of business formation in the DC region from 2010 to 2019.
But Montgomery County lagged post-recession
As a result, household income growth in the county lagged the national average (14% vs. 25%) and was the slowest in the region during this period. Montgomery County added jobs, albeit slowly, but growth came largely in lower wage sectors of the economy.
Post-recession growth only 1/3 of prior growth…
…slower than the US and the rest of the DMV
This weak income and job growth shrink the county's tax base, limiting its ability to provide high quality amenities and services and the ability of many county residents to buy homes. This is particularly true for younger households, who struggle to afford a home and put down roots.
…lower net worth and home ownership rates
Unless we attract more young adults this aging of our workforce will put more pressure on the tax base as the proportion of retirees relative to residents in their peak earning years grows. This increase in the so-called elder-adult dependency ratio means that our economic performance will have to improve just to maintain current levels of tax revenue and the services it funds.
The region's highest elder adult dependency ratio…
Racial equity and social inclusion
Diversity and inclusion are essential to our economic prospects and to equitable outcomes for all our residents, who need good jobs, housing, transportation, and recreation. Immigration has diversified our demographic mix, but past patterns of discrimination – some intentional, some unintentional – have left many people geographically, economically, and socially isolated.
Racial and ethnic diversity steadily increased over the past three decades


After the Civil War and the end of slavery, African Americans suffered from pervasive discrimination in the education, employment, housing, health care, and basic public services. Planning decisions and real estate development practices, such as redlining and restrictive covenants, aggravated these injustices, creating geographic divisions along racial and class lines.
More recently, disinvestment from and abandonment of neighborhoods previously considered desirable, combined with the suburbanization of poverty, have created new divisions. For example, the Wedges and Corridor plan's focus on the I-270 corridor and related planning decisions exacerbated this problem by discouraging investment in the East County.
Today communities with high concentrations of racial and ethnic minorities also show lagging median household incomes.  And even as the county becomes more racially and ethnically diverse, our neighborhoods are still largely separated along income and racial lines.
This separation of neighborhoods along lines defined by race and income has important consequences for access to educational opportunity. In 2019, three-quarters of Black, Hispanic, and English-learning students in Montgomery County Public Schools – along with more than 80% of all low-income students in the system – were enrolled in high-poverty-focus schools. Over two-thirds of white, Asian, and multi-racial students were enrolled in low-poverty schools.
Environmental resilience
The Wedges and Corridors plan emphasized land preservation. One-third of the county's land is now protected within the Agricultural Reserve and another 13.8% is under the stewardship of the Parks Department. Along with strong stormwater management and forest conservation regulations, these efforts have established a strong framework for environmental protection.
Despite these policies, climate change requires more focused attention. Precipitation in northeastern United States increased 55% between 1958 and 2016.
While the effects of climate change on future weather patterns are uncertain, the prospect of increasingly frequent and disruptive storms is disturbing. The past decade also has been the hottest 10-year period in the region's recorded history, with rising hospitalizations due to extreme heat.
US Northeast heavy preciptation events increased by 55% between 1958 and 2016
Thrive Montgomery addresses other topics, including the role of planning in encouraging healthy lifestyles; supporting arts and culture; and building a sense of community – but its overarching goals relate to economic performance, racial equity, and environmental sustainability. In the next post I will explain how the plan attempts to provide an integrated approach to these challenges.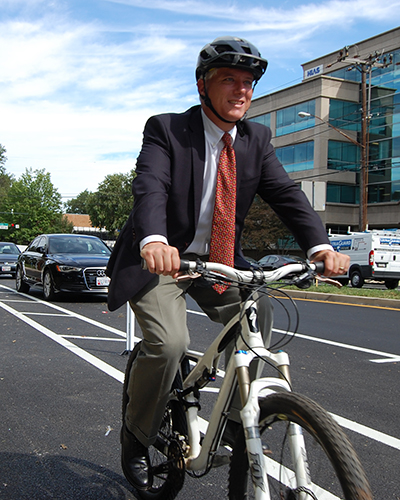 About the author
Casey Anderson has served on the Montgomery County Planning Board since 2011 and was appointed Chair in 2014. He also serves as vice chair of the Maryland-National Capital Park and Planning Commission, the bi-county agency established by state law that regulates real estate development, plans transportation infrastructure, and manages the park systems in Montgomery and Prince George's Counties.