Thrive Montgomery includes dozens of recommendations touching on land use, transportation and many more topics. In the following posts I will describe what I see as the most interesting and important concepts in the plan, but first I want to outline the general approach that informs this plan's specific proposals – an approach that can be summarized as "urbanism."
The plan applies the principles of urbanism – a term used as shorthand for a set of ideas about what makes human settlements successful – to frame recommendations about the location, form, and design of development; policies on transportation and housing; and the kinds of parks, recreational facilities, and public spaces we need in the future.
What we mean by "urbanism"
If you Google the term, you will find different definitions of urbanism along with permutations including New Urbanism, walkable urbanism, landscape urbanism, market urbanism, and more. Thrive Montgomery defines urbanism as an approach to planning that emphasizes (1) a compact form of development; (2) diverse uses and building types; and (3) transportation networks that take advantage of and complement these two land use strategies, at all densities and scales.
This approach calls for focusing growth in a limited number of locations, avoiding "sprawl." It encourages the agglomeration of different uses such as retail, housing, and offices as well as diversity within each type of use. For example, a variety of housing sizes and types near retailers and offices helps to ensure that people of diverse incomes can live and work near each other, creating more racially and socioeconomically integrated neighborhoods and schools. It also emphasizes the importance of walking, biking and transit and reduced reliance on cars.
Of course, other factors – particularly quality and thoughtfulness in the design of buildings, streets, neighborhoods, parks, and public spaces – are also important. Combined with the fundamentals of urbanism, design excellence can help create a sense of place, facilitate social interaction, and encourage active and healthy lifestyles.
It's not just for cities
The principles of urbanism are equally relevant to rural, suburban and urban areas. In fact, the preservation of land for agriculture in a place like Montgomery County depends on concentrating development in urban centers instead of permitting sprawl, and even suburban and rural areas benefit from a mix of uses and housing types at appropriately calibrated intensity and scale. With attention to the functional and aesthetic aspects of design, urbanism is not only consistent with a commitment to maintaining the best of what has made our county attractive in the past but is necessary to preserve and build on these qualities while correcting the errors of auto-centric planning and the damage it has done to the environment, racial equity, and social cohesion.
In subsequent posts I will discuss some of the most significant concepts in Thrive Montgomery and show how they represent an integrated set of ideas – rooted in the principles of urbanism – that orient the tools available to planners around improving economic performance, racial justice, and environmental sustainability while strengthening the health of our community.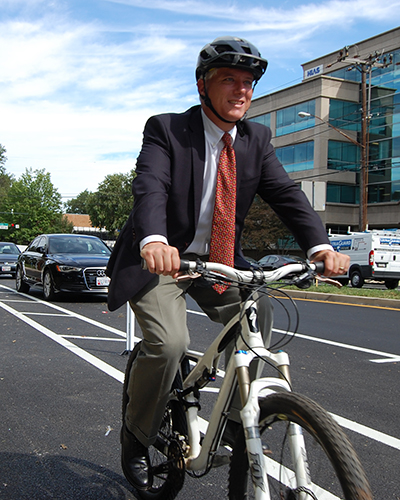 About the author
Casey Anderson has served on the Montgomery County Planning Board since 2011 and was appointed Chair in 2014. He also serves as vice chair of the Maryland-National Capital Park and Planning Commission, the bi-county agency established by state law that regulates real estate development, plans transportation infrastructure, and manages the park systems in Montgomery and Prince George's Counties.