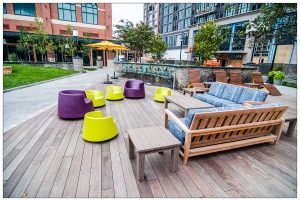 Plans for central Montgomery County are now being realized through urban-style, mixed-use developments
In central Montgomery County, vibrant parks, walkable streets, centers of activity and new buildings are arriving in areas that were once a sea of asphalt. The movement began with the 24-acre Pike & Rose district that replaced the 1960s Mid-Pike Plaza at Old Georgetown Road and Rockville Pike.
Opening in 2014, this ambitious project led by Federal Realty is one of the first developments in the nation to transform a strip center into a vibrant community. It is planned to have more than 1,500 housing units, with 864 already built, and 12.5 percent of the units will be moderately priced dwelling units.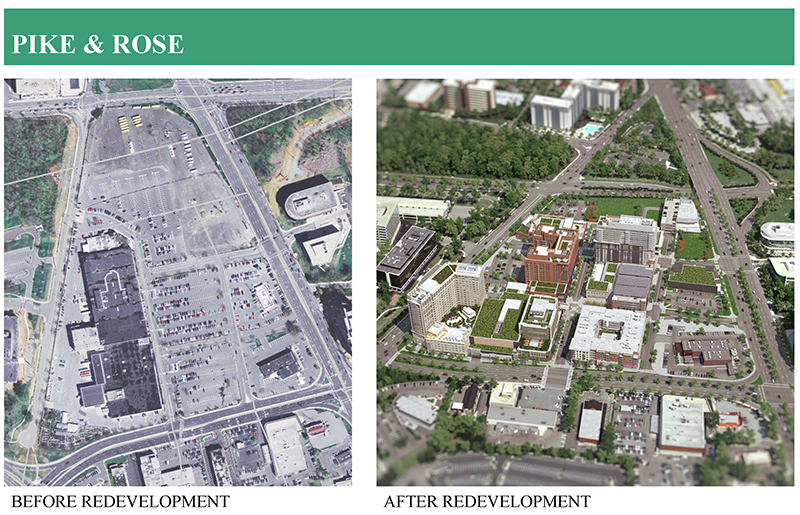 Pike & Rose is part of the 2010 White Flint Sector Plan, which calls for new vibrant communities by the Metro's Red Line stations. The plan encourages a transition from car-oriented suburbs to livable, urban-style walkable communities with clusters of housing, offices, stores, restaurants and civic amenities. Several projects following these recommendations are now being realized.
Directly across the street from Pike & Rose, more surface parking lots have been converted into new housing and a grocery store as part of North Bethesda Center, being developed by LCOR, with remaining lots continuing to transform. And in December 2017, the County Council adopted the White Flint 2 Sector Plan, which extends this mixed-use transformation east and west along Rockville Pike.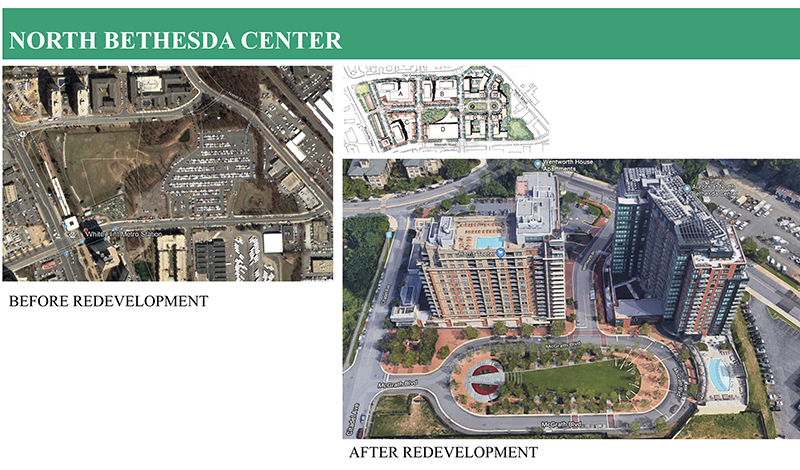 Farther south on Rockville Pike, the Grosvenor Strathmore Metro Station is also transforming.   Montgomery Planning developed the Grosvenor-Strathmore Metro Area Minor Master Plan with the community to make better use of this transit-accessible area. The goal is to enhance visibility and connectivity to the Strathmore Music Center, improve walkability and create a shared identity for this community through public space and artworks.  Fivesquares Development is planning Strathmore Square, a project proposed with four to six new buildings, more than 1,000 housing units, ground-floor retail and a public park. Metro is planning to replace the 412 parking spaces that would be lost when the development is constructed by adding spaces to the existing parking garage at the site.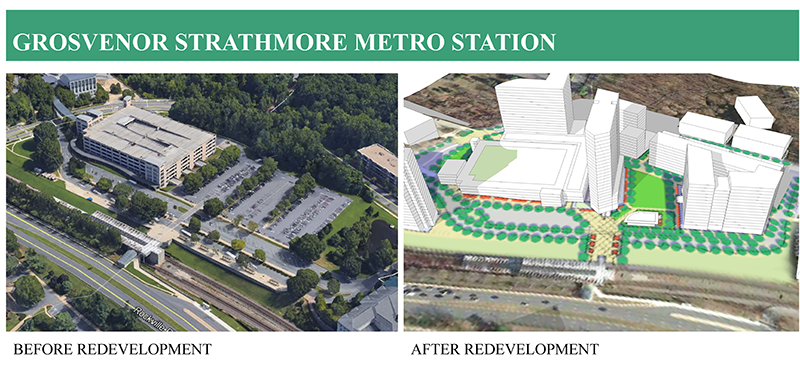 Parking lots are also being converted to new uses along Shady Grove Road in the Great Seneca Science Corridor where the central part of the county has become a home to major hospital, academic institutions and private biotechnology companies. This area has the largest concentration of advanced technology companies in the County as envisioned in the Great Seneca Science Corridor Master Plan. A recent development approved by the Montgomery County Planning Board in December 2017 will create an infill building on existing parking and provide new public spaces, new bike paths, water quality improvements and restored wetlands to manage storm water.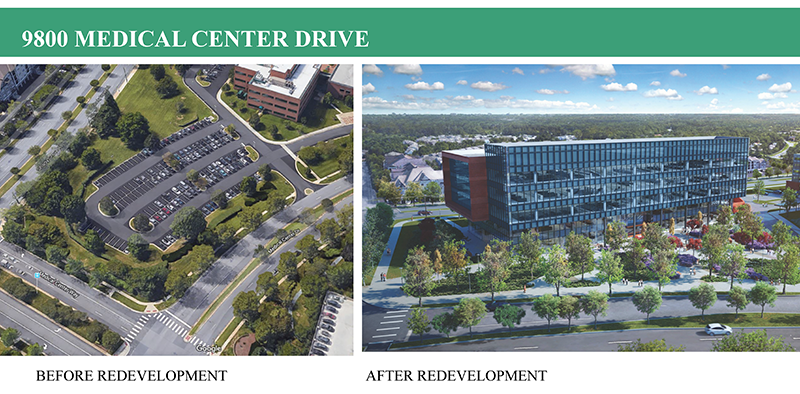 Creating vibrant places out of parking lots can be difficult. So it is encouraging to see such transformations becoming more common in Montgomery County and necessary to maintain this momentum as land becomes scarcer for development.
To explore this trend, the Montgomery Planning Department is holding a three-part Winter Speaker Series titled "The Economic Future of the Suburbs: Infill, Commerce, Placemaking." The series examines the shift away from sprawling, car-centric places to more walkable, mixed-use and urban-style communities and how this trend is a response to market conditions. The public is invited to attend the next presentations on January 24 and February 28, 2018 at the Planning Department.