The Planning Department's Research and Special Projects Division undertakes cutting-edge studies to influence important decisions about the county
Our plans rely on accurate data about demographics, housing, commercial real estate and the economy to inform recommendations and decisions about land use. This information is carefully gathered by a dedicated group within the Planning Department – the eight staff members of our Research and Special Projects Division – who help us get ahead of the planning curve with their ongoing investigations.
We like to call this division "the think tank for the county" because it provides a wealth of intelligence for the County Council and various government agencies. Currently, the research staff is hard at work on several important studies of housing, retail and employment to evaluate current data and forecast trends. This effort is more expansive than any other research we have undertaken and will influence some of the most important decisions made about the future of our county.
The recently completed Rental Housing Study, presented to the County Council in July 2017, addresses the need for more such units, which account for about 30 percent of the housing supply in Montgomery County. Most of this rental stock consists of older dwellings, with only 14 percent of rental units constructed later than 2000. Research shows the rental market is short about 20,000 units for households earning less than 30 percent of the area median income.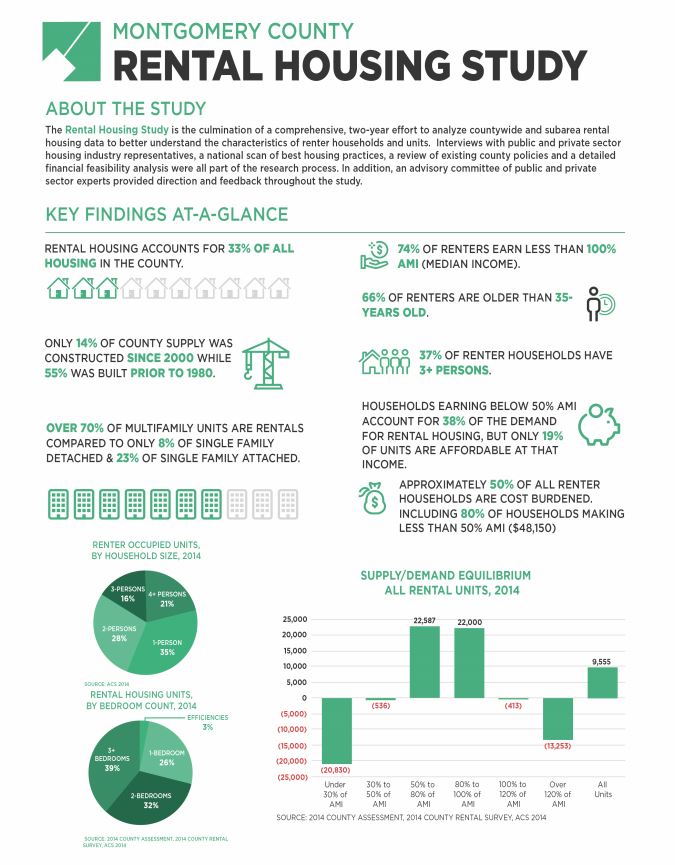 The report includes a range of recommendations supporting the development and preservation of rental housing, including changes to the moderately priced dwelling unit program. The Council has recently taken up this issue, using the report as the basis of its discussion.
Analyzing our past plans to see if development and public investments happened as envisioned is another important aspect of our research. In May 2017, the Master Plan Reality Check was presented to the Planning Board to reveal how the goals were met for three plans, the 1989 Germantown Master Plan, 1997 Fairland Master Plan and 1998 Friendship Heights Sector Plan.
Each study involved an in-depth analysis of indicators in six categories, including residential and nonresidential development, transportation and the environment, and community facilities, such as parks. The Planning Department is breaking new ground by advancing this type of analysis and self-assessment. While the study addressed just three plans, the insights are applicable more broadly to the development of future master plans.
Another research project examines shifting retail trends, as large chain stores close and more people shop online. This comprehensive countywide study finds that the market in the county is generally well balanced with 19.7 million square feet of occupied retail, amounting to 24 square feet of retail per person. Some submarkets do have needs for additional neighborhood goods and services retail (grocery stores, hairdressers, cleaners, etc.). The Retail Market Strategy Study, which was reviewed by the Planning Board in October 2017, includes detailed submarket analyses and recommendations on how to further enhance the retail environment to serve the county.
In conjunction with the County Executive's Office and Planning Director's Oversight Committee, comprised of senior staff from eight agencies, our researchers have been leading a study of colocating public facilities in Montgomery County. This work builds on a previous study of national colocation trends and is important given the county's shift from greenfield to infill development and the increasing cost of land.
A significant number of public facilities are sited on the same site today, including parks and schools, health clinics and schools, and county maintenance facilities. Through a series of case studies and extensive interagency outreach, this study focuses on policy recommendations to overcome barriers to colocation and help agencies approach colocation in a more strategic and systematic manner. The Colocation Study will be released in 2018.
We have also recently launched two new major studies that will be completed in 2018. The Employment Trends Study was begun in July 2017 to increase the understanding of changes in the labor market and firm location preferences that impact land use planning. This study builds on the 2015 Office Market Assessment Study and will look holistically across all sectors at employers' requirements for relocating or expanding in the county, including physical spaces, location, amenities, access to talent and infrastructure. The report will assess the tools and strategies to support a range of employment opportunities.
A study of senior housing is now underway to research the needs of the elderly, a growing demographic segment within Montgomery County. The purpose of this study is to collect data on the current and planned supply of senior housing, trends in the drivers of demand and implications for land use policy.
All these efforts will improve our plans and policies. We are fortunate to have the funding and support for our inhouse Research and Special Projects Division whose ongoing work guides the best data-driven decisions to keep our county moving forward.