Answers:
Agricultural Reserve …………………………… d. 106,735.15 (37.77%)
Rural Residential Zones ………………………. l. 32,573.25 acres (11.53%)
Residential Estate Zones ……………………… b. 50,152.98 acres (17.75%)
Residential Low Density Zones ……………. j. 37,976.81 acres (13.44%)
Residential Medium Density Zones ……..  n. 33,484.53 acres (11.85%)
Residential Townhouse Zones …………….. f. 1,080.85 acres (0.38%)
Residential Multi-Family Zones …………… i. 2,718.34 acres (0.96%)
CBD Zones …………………………………………… h. 364.04 acres (0.13%)
C/R Zones …………………………………………… g. 636.78 acres (0.23%)
Mixed Use Zones ………………………………… c. 2,690.31 acres (0.95%)
Commercial Zones ………………………………. a. 1,162.54 acres (0.41%)
Office Zones ………………………………………… k. 2,132.64 acres (0.75%)
Industrial Zones ………………………………….. m. 3,099.55 acres (1.09%)
Planned Development Zones ………………… e. 7,782.81 acres (2.75%)
Graphically, this looks like: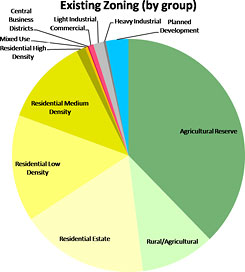 Montgomery County zoning in sum:
38% Agricultural Reserve
54.5% Detached House Residential
1.5% Townhouse and Multi-Family Residential
2.5% Mixed Use and Commercial
1% Industrial
2.75% Planned Development (generally residential at various densities)
Where are the zones located: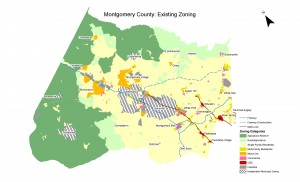 Two caveats regarding zoning and actual development:
Optional Method Development
It may seem that there are more townhouses or even apartment buildings than the zoning summarized above would entail.  The reason is that "optional method development" (development that either 1. provides affordable housing units above the minimum required, 2. purchases development rights to protect the agricultural reserve or 3. agrees to cluster development to save open space) is allowed to build townhouses and apartment buildings in zones that otherwise only allow detached houses.
The logic of such allowances is that a greater public good is provided and protections for adequate public facilities (fire & rescue access, school capacity, road congestion, water/sewer capacity, etc.) are still tested during a more stringent review process.  This process and the types of residential units allowed would not change under the proposed zoning code.
Special Exceptions
It may also seem that there are more commercial enterprises than the zoning summarized above would entail.  One aspect of this is perception – our commercial areas tend to run mostly along major highways and arteries, so these areas dominate our senses until we pull off into the residential neighborhoods and rural areas.  Another aspect is that commercial uses are allowed in residential zones – mostly through the "special exception use" process (which we proposed to rename "conditional use").  Also, schools and other public uses are allowed in any zone.