Guest post: Scott Whipple
May is National Preservation Month and this year's theme, "Discover America's Hidden Gems", got me thinking about Montgomery County's rich collection of historic places.
Montgomery County has 430 sites and 22 districts designated in the County's Master Plan for Historic Preservation. More are identified in the Locational Atlas and Index of Historic Sites in Montgomery County. And more still are waiting to be identified and investigated.
Historic and architectural gems we have. But hidden? In a county just outside the nation's capital, with a population rapidly approaching a million people, it is hard to think of much as being hidden. Whether or not we live or work in a historic building, most of us encounter historic buildings or landscapes on a daily basis as we navigate the County.
But how often do we stop to appreciate these places, or take the time to discover new places? So to help you, historic preservation staff have prepared a list of places we think people should discover and celebrate.
Some people love lists. I am in another group – the reluctant list-makers – concerned about inadvertently leaving off the list something deserving inclusion. So with the caveat that the following is by no means definitive and advanced apologies if we have left off your favorite building or opened people's eyes to your much-loved secret place, here is what can only be considered a partial list of thirty-one Montgomery County hidden gems, one for each day of Preservation Month. Some are hidden in plain site; others are known to some, but should be enjoyed by many.
1. Acorn Gazebo, Acorn Park | last vestige of Silver Spring founder Francis Preston Blair's estate | 8060 Newell Street, Silver Spring
2. Baltzley Castle| Victorian "fantasy" castle, built by the developers of Glen Echo and funders of the  Glen Echo National Chautauqua| 5415 Mohican Road, Glen Echo Heights; visible from MacArthur Boulevard
3. Bethesda Meeting House (listed in the National Register of Historic Places) | 1850 Greek Revival church located on a peaceful site overlooking a busy road | 9400 Rockville Pike, Bethesda
4. Bonfields Service Station| a monument to the age of automobiles|  6124 MacArthur Avenue, Bethesda
5. Boundary Markers of the District of Columbia, Montgomery County locations | stones placed in 1791 and 1792 to mark the boundary of the nation's new capital | multiple locations
6. Boyds Negro School| a one-room school that educated African Americans from the Boyds' area from 1895-1936 | 19510 White Ground Road, Boyds
7. Button Farm | living history center telling the story of 19th century plantation life and the Underground Railroad, located in Maryland resident curatorship property in Seneca Creek State Park|  16820 Black Rock Road, Germantown
8. Carderock Springs (listed in the National Register of Historic Places) | A "visual community" of 275 mid-century modern houses designed by Keys, Lethbridge, and Condon and developed by Edmund J. Bennett between 1962-1966 | vicinity of Seven Locks Road and Lilly Stone Drive, Potomac
9. The Cider Barrel (listed in Endangered Maryland 2012)| Roadside architecture | 20410 Frederick Road, Germantown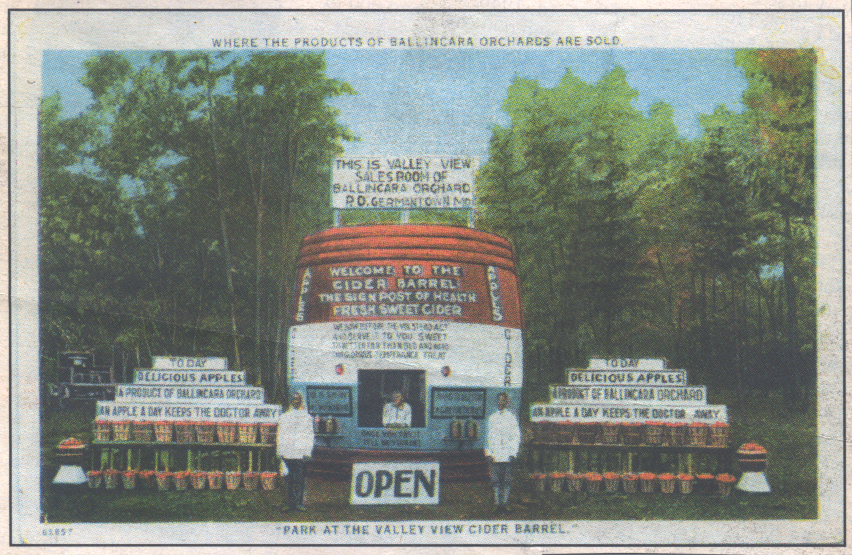 10. Hawkins Lane Historic District| originally a kinship community founded by a former slave | off Jones Bridge Road, Bethesda
11. Jenkins Broadcasting Station| in operation between 1929-1932, the site of a pioneering television transmission "Radio Movie Broadcasting Station"| 10717 Georgia Ave, Wheaton
12.Madison House| Served as the  "White House for the Day" during the War of 1812| 205 Market Street, Brookeville
13. Martinsburg Road| a Montgomery County Rustic Road, one of the few surviving one-lane paved roads in Maryland | Martinsburg Road, between Rt. 28 and Wasche Road fork
14. Montgomery Farm Women's Cooperative Market| Farm Women's Market  in the heart of Bethesda | 7155 Wisconsin Avenue, Bethesda
15. National Park Seminary (listed in the National Register of Historic Places; listed in Endangered Maryland 2011) | Short-lived resort served as a finishing school for young women and annex to Walter Reed Army Hospital before being saved and rehabbed as a residential community | Linden Lane and Dewitt Drive, Silver Spring
16. Noyes Library | the first public library in the Washington area, now Montgomery County's children's library | 10237 Carroll Place, Kensington
17.Polychrome Historic District (listed in the National Register of Historic Places) | Five art deco houses, by innovator John Joseph Earley| Sutherland & Colesville Roads, Silver Spring
18.Rachel Carson House (listed as a National Historic Landmark) | home in which environmentalist Rachel Carson lived when she wrote Silent Spring| 11701 Berwick Road, Silver Spring
19. Rock Creek Woods (listed in the National Register of Historic Places) | community of 76 mid-century modern houses designed Charles Goodman between 1958-1961 | vicinity of Spruell Drive and Connecticut Avenue, Silver Spring/North Kensington
20. The Sandy Spring | interpreted as part of the Underground Railroad Experience Trail | Accessible from Woodlawn Manor, 16501 Norwood Road, Sandy Spring
21. Seneca Historic District (listed in the National Register of Historic Places)| more than 3,800 acres of agricultural and parkland rich with historic sites| River Road and Sugarland Road, vicinity of Poolesville
22. Seneca Stone Schoolhouse| restored one room schoolhouse constructed in 1865 | River Road, near Partnership Road, Poolesville
23. Seymour Kreiger House (listed in the National Register of Historic Places) | A mid-century modern house, designed by Marcel Breuer in the International style | 6739 Brigadoon Drive, Bethesda
24. Silver Spring Heritage Trail | interpretive markers creating a self-guided walking tour along Silver Spring's historic main street | multiple locations, Georgia Avenue, Silver Spring
25. Sugarloaf Mountain Chapel | 1861 brick chapel built in the shadow of Sugarloaf Mountain by local builder William T. Hilton using bricks fired nearby and slate shingles from Hyattstown quarry | 24700 Old Hundred Road, Dickerson
26. Takoma Park, Main Street and Farmers Market | Montgomery County's only Main Street community, Takoma Park's historic downtown is an attractive destination | Takoma Park
27. Walter Johnson House | Home of the "Big Train," Washington Senator Hall of Fame pitcher Walter Johnson, who had a chicken farm here in Bethesda | 9100 Old Georgetown Rd, Bethesda
28. Warren Historic Site, Love and Charity Hall(listed in Endangered Maryland 2008)/Warren M.E. Church/Warren M.E. Church Cemetery| a rare surviving collection of a church, school, and social building associated with the African American community, recognized by the Library of Congress American Folklife Center as a Local Legacy| 22625 White's Ferry Road, Martinsburg
29. Washington Grove (listed in the National Register of Historic Places) | known as "a town within a forest," Washington Grove is an incorporated town that evolved from a religious camp meeting and later a summer retreat | vicinity of Grove Road, Washington Grove
30. Wilkins Estate| Wilkins family summer home, designed by John Russell Pope, now part of Parklawn Cemetery | 12800 Viers Mill Road
31. WTOP Transmitter Building | Broadcast home of WTOP, designed in 1939 in the International style | vicinity of University Boulevard and Amherst Avenue, Wheaton
Keep in mind that many of these places are privately owned, so if you visit, please respect their owner's privacy and limit your visits to looking at building exteriors from publically accessible locations. Additional information about many of these resources is available in Places from the Past and from the sources linked-to in the preceding list.
And don't forget our County's other, less hidden gems: including our Montgomery Parks heritage sites, history and heritage museums, Heritage Area attractions, and National Park Service sites.
We hope you will get out and visit our county's great historic resources during Preservation Month, and tell us what would be on your list? To help you with your list, use our interactive mapping tool to discover historic places across the County.