Pedestrians can have it hard enough getting from place to place, building access to the wrong dimensions shouldn't exacerbate the problem.
The set of steps I used to take from the Metro/Marc station in Silver Spring – from 2nd Ave up to Fidler Lane, next to the McDonalds – are a prime example of bad design. The details of such things shouldn't be overlooked: you can't build steps to fit grade, you need to fit human scale. Well, you can, but then you haven't designed anything, you've conceded to expediency.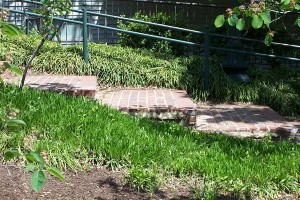 Steps should follow a simple couple of rules: twice the riser height plus the tread should equal about 26 inches; landings should match this stride length – but slightly less so.
These particular steps have 7 inch (+/-) risers and 42 inch treads.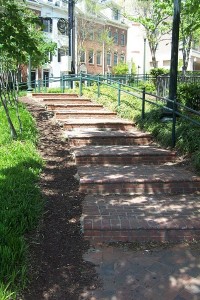 It would have been better to tighten up the steps and have a few 12 inch steps with longer landings at regular intervals or do the complicated 6 inch riser with the odd half-step we take at the top of steps, which is about 18 inches – making about a 32 inch tread. But this is difficult to average – and not comfortable for most people.
Generally, stick with something we are comfortable with: 6-7 inch risers and 12-14 inch treads or broader 4 inch risers with 18 inch treads.