By Casey Anderson, Chair, M-NCPPC and Montgomery Planning Board
When COVID-19 vaccines were certified as safe and effective last fall, employers faced a question with no obvious answer: Would requiring workers to get vaccinated spike turnover at a time when finding and keeping employees is already a struggle? The Maryland National-Capital Park and Planning Commission's vaccine mandate shows requiring vaccinations helps keep everyone safe without a wave of retirements and resignations.
The Commission adopted a policy on December 1, 2021, requiring all staff to present proof of vaccination or qualify for a medical or religious exemption. About 80% of our 2,156 full-time employees in Prince George's and Montgomery Counties were already fully vaccinated (defined at the time by the Centers for Disease Control as two shots of the Pfizer or Moderna vaccine or one of the Johnson & Johnson vaccine).
Today 2,126, or more than 98%, of our employees – including staff working in parks, recreation, land use planning, and public safety – are fully vaccinated, and not a single employee has died of COVID since the mandate went into effect. Some of our employees continue to oppose the policy, but many more have expressed support and almost all have complied, helping to keep our facilities maintained and our programs operating at a high level.
Montgomery County Parks fully vaccinated, percentage of active employees
Eighteen employees have been terminated for refusing to get COVID-19 shots, and another twelve are appealing discipline for declining vaccinations, for a total of 1.4% of all employees. We can't rule out the possibility that some employees found another job or retired rather than get vaccinated – employees often leave without providing a reason – but we have seen no unusual increase in retirements or other measures of attrition.
During the pandemic, we have worked to keep our employees safe while continuing to operate basketball and tennis courts, day care centers, soccer and cricket fields, hiking and biking trails, and dozens of other types of facilities and amenities at 793 parks in Montgomery and Prince George's Counties. We have accomplished this while minimizing risk of infections by granting additional time off, changing work shifts, providing protective gear, and adopting workplace social distancing protocols.
Almost all these steps have been taken through negotiated agreements with MCGEO, our largest union, and the Fraternal Order of Police (FOP), which represents Park Police officers. In the case of the vaccine requirement, our FOP chapter agreed but MCGEO fought it, and we ultimately adopted it over their objections. We did not take this step lightly, but we believe it was in the best interest of the majority of employees who had already chosen to get vaccinated when the mandate was adopted as well as members of the public who interact with our staff. We felt we could not ask vaccinated employees to continue working with unvaccinated co-workers, who pose heightened risks to everyone around them.
Employers have been forced to make decisions about how to cope with the twists and turns of the COVID-19 pandemic with incomplete information, and there's still a great deal that no one knows.  The latest research, however, suggests that full vaccination (with a single booster shot) is likely to offer strong and lasting – albeit imperfect – protection, even against new variants.
With about one-fifth of residents in the two counties we serve still not fully vaccinated – that's upwards of 400,000 people – and the prospect of other variants emerging, the pandemic is not finished with us even if we decide we are finished with the pandemic. In the absence of vaccine mandates, we will struggle to move beyond it. The Commission's 98%+ vaccination rate shows that we can keep our employees and the people around them safe without disrupting the delivery of services to the public.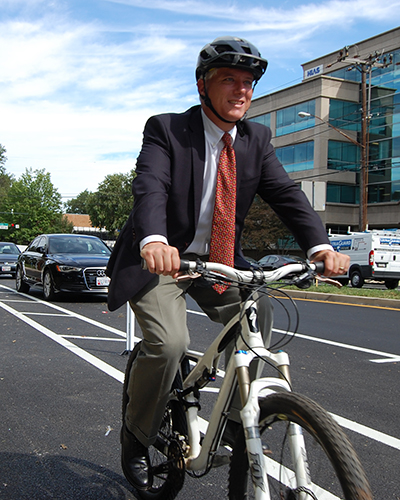 About the author
Casey Anderson has served on the Montgomery County Planning Board since 2011 and was appointed Chair in 2014. He also serves as vice chair of the Maryland-National Capital Park and Planning Commission, the bi-county agency established by state law that regulates real estate development, plans transportation infrastructure, and manages the park systems in Montgomery and Prince George's Counties.