Thrive Week kicked off Thrive Montgomery 2050 with five events held over five days, asking community members how they imagine the future of the county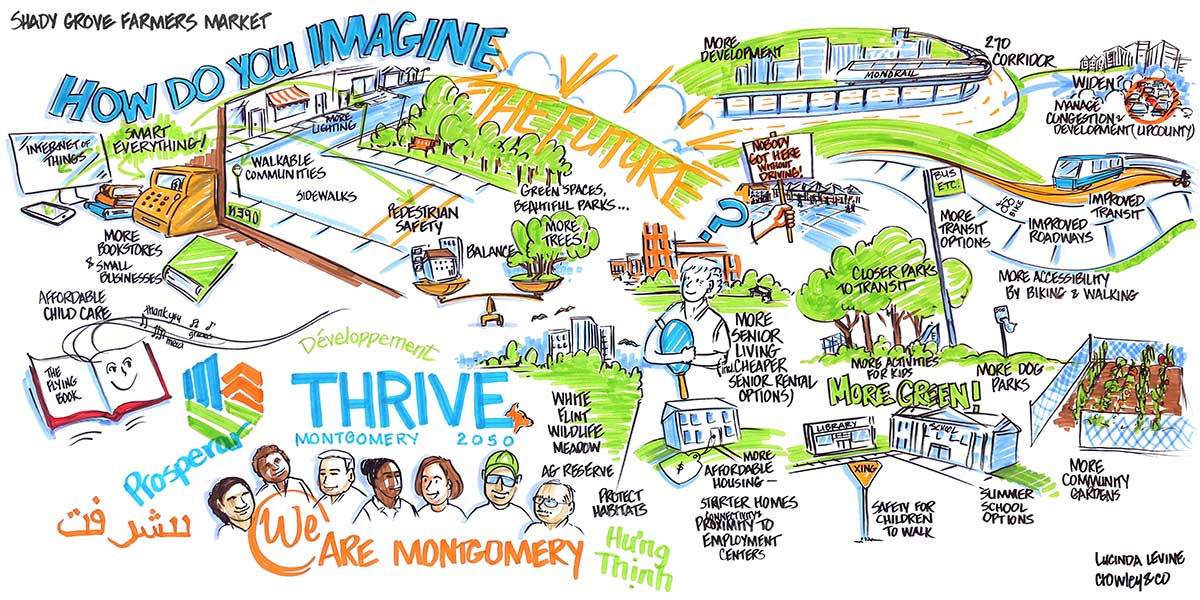 What does your future look like? And how does the community where you live, work and play support your vision for tomorrow?
Continuing social, environmental, technological, demographic and economic changes over the next few decades necessitate revisions to Montgomery County's guiding framework for growth, called the General Plan.
As Montgomery Planning begins work on this plan update, we're asking for the community's help to ensure that the county remains a vibrant, verdant and welcoming place — with an innovative economy — where all can thrive. The first stage of this effort to update the plan, called Thrive Montgomery 2050, took place from June 26 through June 30 at five locations.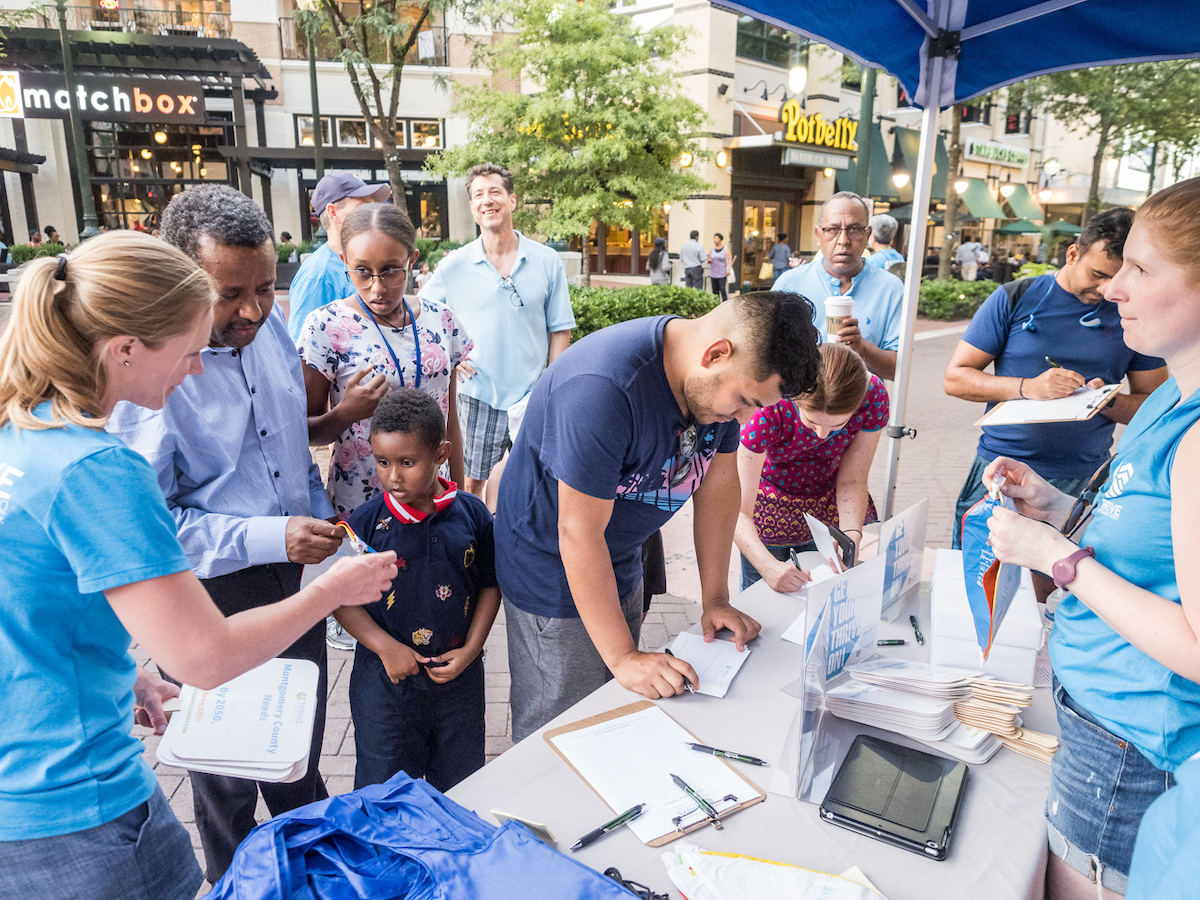 Thrive Week drew nearly 1,000 people to fun activities in Bethesda, Germantown, Shady Grove, Silver Spring and Wheaton. County Councilmembers, Planning Board Commissioners, leaders and planners engaged residents and families in parks and public spaces to discuss our future.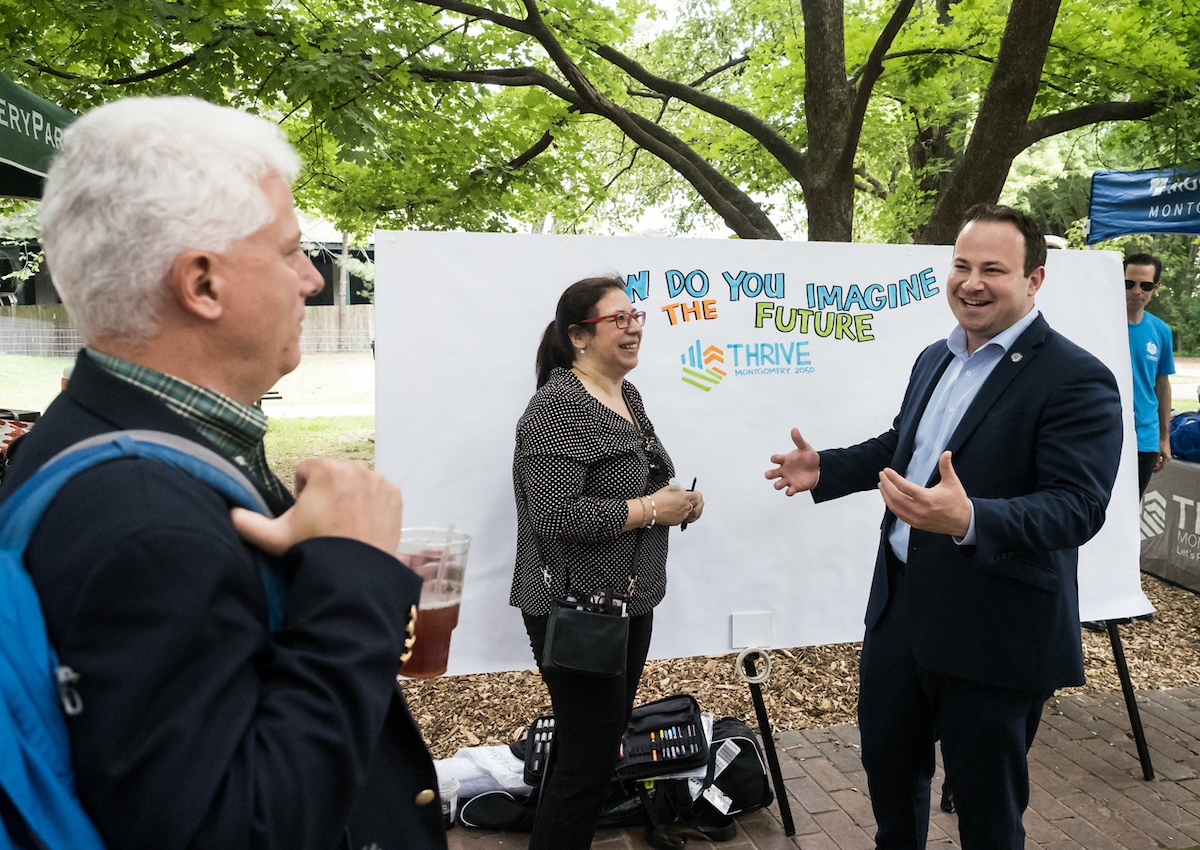 Graphic artists at each venue recorded the ideas and images suggested by community members to make Montgomery County a great place to live, work and play over the next 30 years. We identified what we want for tomorrow so planners can develop a shared vision that allows us to keep what we love about Montgomery County while taking the actions needed to thrive over the next three decades.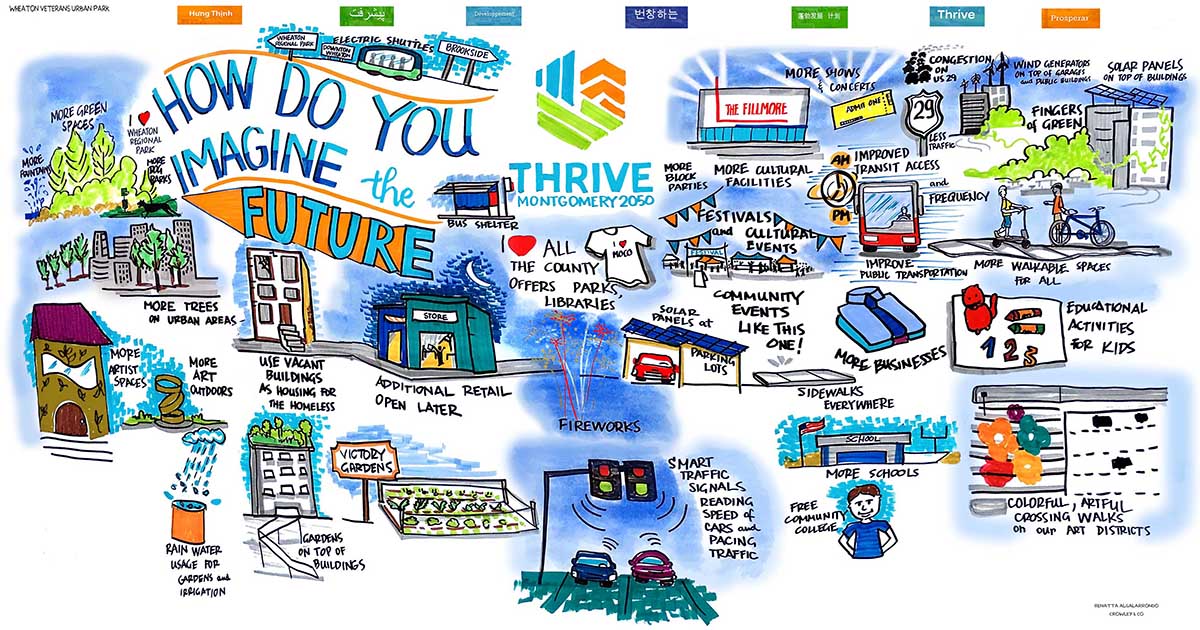 The result of Thrive Montgomery 2050 will be a living and breathing plan that guides decision-making and helps secure resources to ensure Montgomery County is a place where everyone can be successful, have opportunities and enjoy a high quality of life in a beautiful and resilient environment.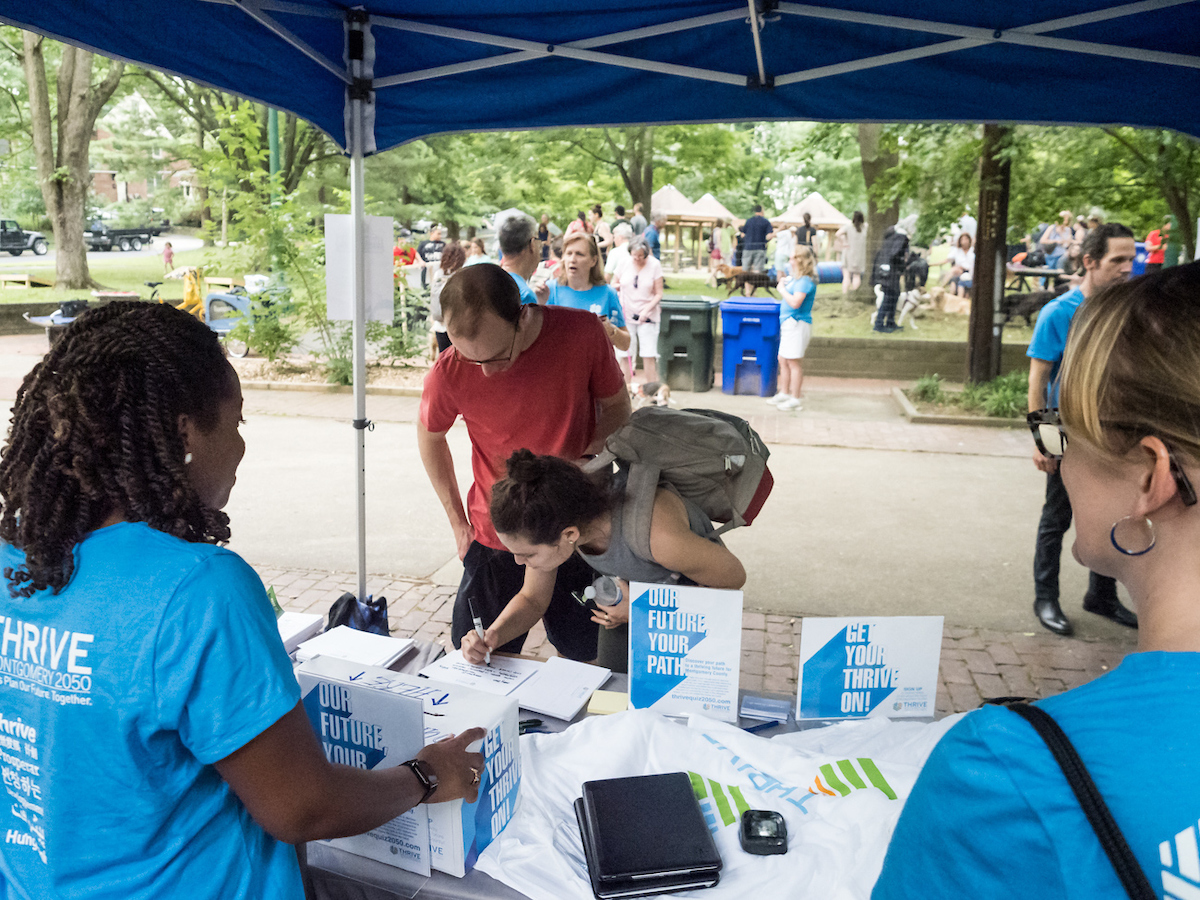 We want to engage more people in the county who represent our changing demographics. People of color now make up about 56 percent of the population, compared with 28 percent in 1990, according to our January 2019 Montgomery County Trends Report. Today, 33 percent of residents are foreign-born, compared to 19 percent in 1990. And residents have grown older: About 16 percent are 65 or older and by 2040, this age group is expected to increase to 20 percent of the population. Fewer of those younger than 35 are choosing to buy a home or can afford to. In 1990, 45 percent of residents in that age group owned their home compared to 28 percent in 2016.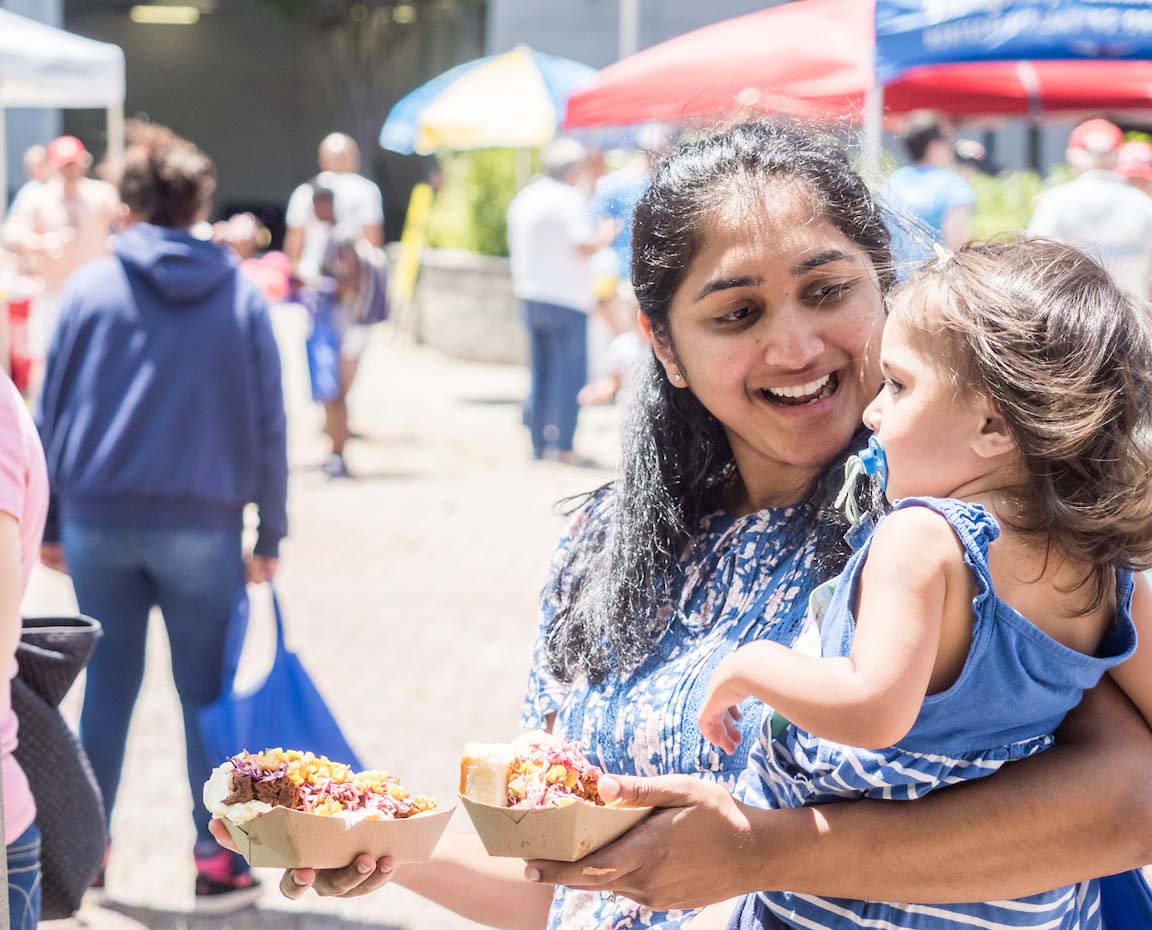 For Thrive Montgomery 2050, we want to reach people who live and own businesses in Montgomery County and those have been historically underrepresented in our planning processes: renters, small business owners, African-Americans, Latinos, foreign-born residents, millennials, millennial and Gen X families, high school and college students, and community-based organizations. We will continue to consider equity in all outreach and engagement so that all members of our community have opportunities to shape the future of our county.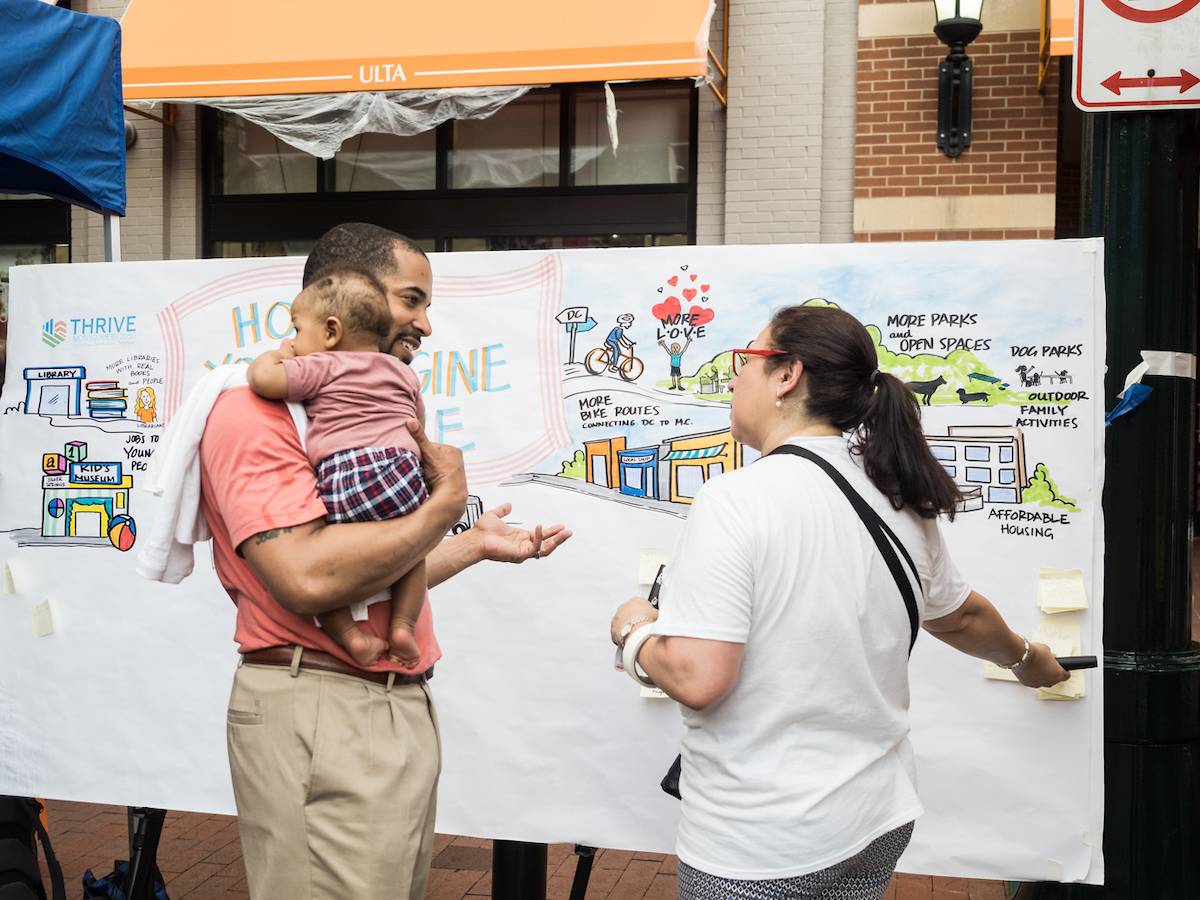 Thrive Montgomery 2050 draws on your vision, ideas and care for your community, best practices, expert analysis and innovative responses. Together, we'll determine how to manage growth in the future and address the challenges and opportunities from technological, social, environmental and economic change.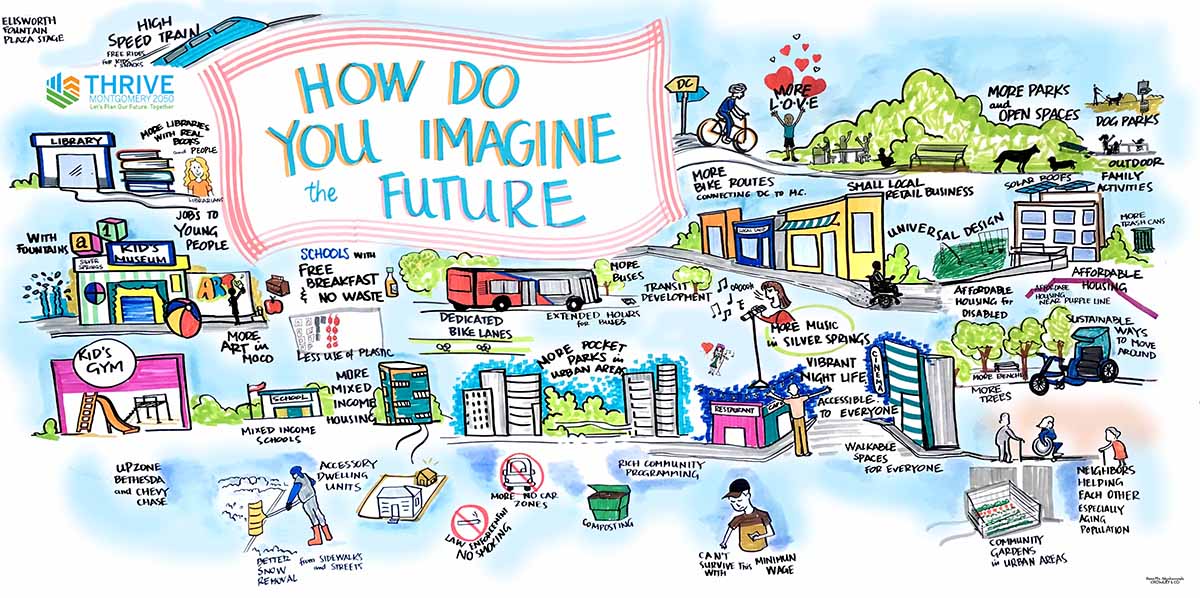 We have set three priorities as starting points for the plan:
Economic health: We want to ensure a vibrant, strong and competitive economy by supporting small businesses and business innovation, and attract and retain a high quality, diverse workforce.
Community equity: We want to create a place where all citizens have equal access to affordable housing, healthy foods, employment, education and more.
Environmental resilience: We want to preserve our natural and built resources, and use the best strategies to fight climate change and mitigate the impact of development on the land.
Thrive Week in June was only the first step in our continuing effort to engage the public throughout the county so we can benefit from your feedback. Please take our quiz and subscribe to our e-letter so you can learn about more Thrive events and stay involved in planning our future. Together.