Transit-served locations, less parking and affordability in urban centers are behind the successful recycling of offices into residences and other uses
Walking past the Octave 1320 on Fenwick Lane in Downtown Silver Spring, it is hard to imagine that not too long ago, this glimmering, 102- unit condominium housed vacant offices and a greasy spoon eatery in its basement. The transformation of the 10-story building, developed by Promark Real Estate Services of Rockville and designed by Washington, DC-based BKV Group, is impressive and likely to become the norm rather than the exception in Montgomery County's urban centers. Several factors are influencing such conversions of aging office structures to other uses:
Our downtowns are mostly built up with high density office buildings that are too expensive to tear down and rebuild.
There is pent-up demand for residential development in walkable, urban places throughout the county, particularly in close proximity to transit.
The office market continues to languish as technology disrupts working habits and drastically shrinks the space required per worker.
Figure 1
Many specific challenges and design issues must be considered while repurposing an office building, depending on its age, location and context.  Five specific ideas found at the Octave evidence larger trends that are likely to guide adaptive reuse in Montgomery County in the near future:
Location is still key: The most likely candidates for conversions will continue to be in locations that are well served by transit and situated within a walkable framework of blocks and streets. These conditions are especially important for adapting offices to apartments, but also are increasingly becoming a prerequisite for conversion to retail, entertainment and civic uses. People are demanding walkability and "car optionality," and the market is struggling to meet the pent-up demand simply through new construction.
If the Octave was not within a quick walk to a Red Line Metro Station and amenities in Downtown Silver Spring, it is unlikely that its transformation could have been achieved. For locations that have a high concentration of office space but no transit or walkable amenities, the focus should be on supplying these two critical ingredients rather than trying to provide government subsidies for conversions on a building-by-building basis.
This kind of thinking about mixed-use environments is currently guiding planning efforts like the Rock Spring Master Plan, now under review by the Planning Board. The plan recommends ways of introducing housing, retail, bus rapid transit and amenities to a 535-acre office park near Montgomery Mall in North Bethesda.
Onsite parking is no longer a prerequisite: A major constraint for adaptive reuse often involves parking, since a lot of older office buildings have too few garage spaces or inefficient surface lots. While minimum parking ratios were considered sacrosanct even a decade ago, today, parking is less critical to development as boomers age out of driving and millennials forgo driver licenses altogether.  Especially within transit-served areas, pulling the plug for on-site parking is not an unreasonable development strategy anymore.
The Octave, for example, is located within the Silver Spring Parking District, but has no onsite parking spaces. Residents can park in a temporary surface lot, a nearby county-owned garage or on the street. Many do not own a car at all and rely on ride-sharing apps like Uber and car-sharing programs like Zipcar to drive on as-needed basis. The bike parking room in the Octave's basement is packed to the gills with commuter bikes of all shapes and sizes. Such lifestyle choices are growing and will continue to have a significant impact on parking strategies for adaptive reuse projects.
Building quirks can be assets: While the multifamily apartment boom has been great for meeting the demand for residential units within Montgomery County, it has streamlined the design and construction of build-from-scratch projects almost too efficiently. The results are buildings that look a lot like each other and sometimes fail to capture a potential resident's attention and rent dollars. Adaptive reuse often presents a more attractive foundation for standing out in the market.
For example, the Octave features a "sky lounge" on the top floor that was formerly a boiler room for the office building. With 20-foot ceilings and unobstructed views of Downtown Silver Spring, it was a unique selling point for the developer and has quickly become a central gathering space for residents. Similarly, on the basement level, a former service ramp has been converted into outdoor terraces for units, which otherwise would have been partially below ground and poorly lit through small windows.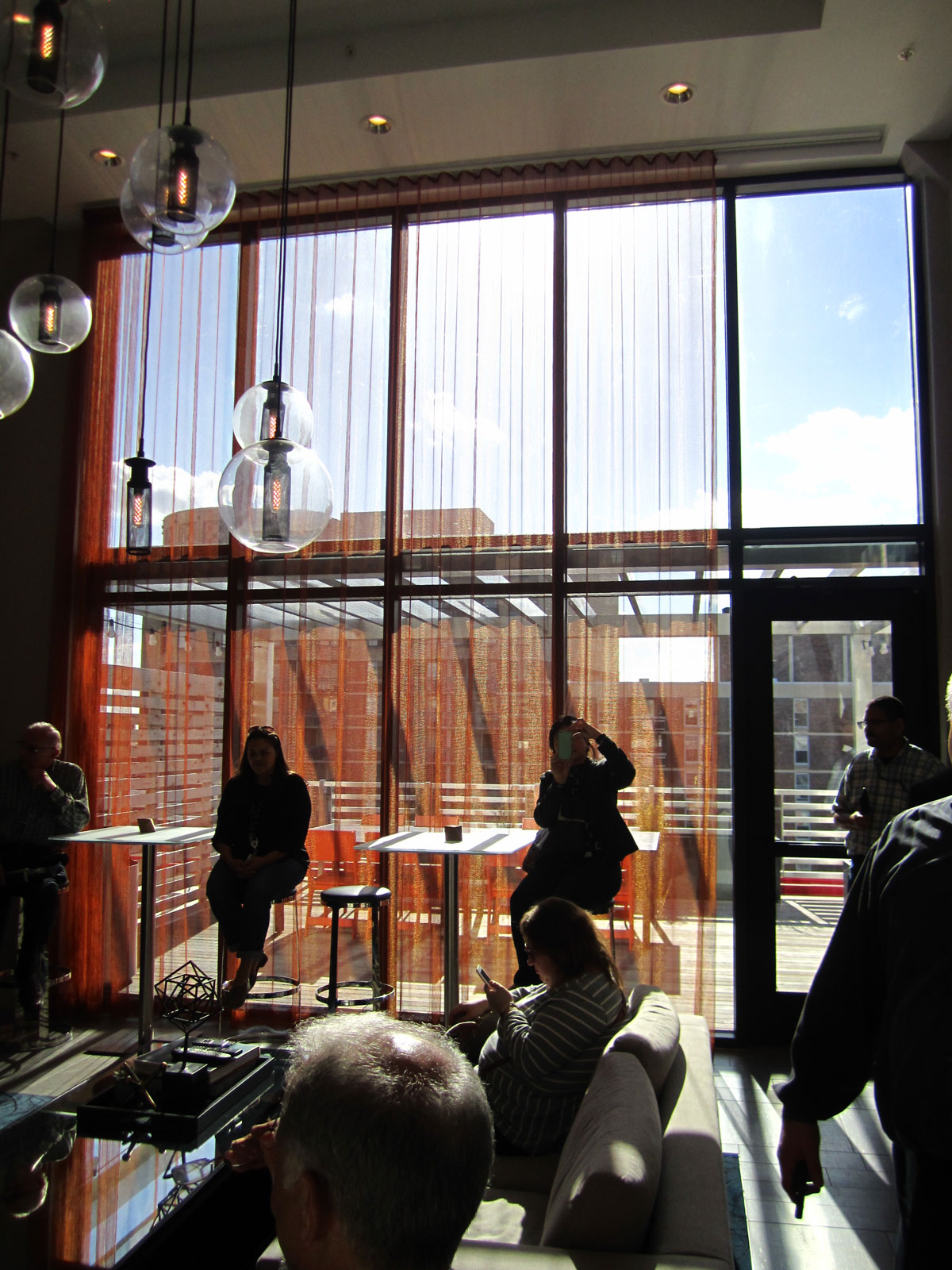 Bucking the rental trend can pay off: In a market dominated by rental apartments, selling condos may seem counter-intuitive. But when Promark analyzed the Downtown Silver Spring market, the developer saw numerous rental apartments in the pipeline and no options for multifamily ownership. Promark also acknowledged that it could not compete with the standard 200-300 unit new rental buildings on the Octave's small site in terms of amenities and rates.
Bucking the trend has paid off and the Octave is almost completely sold out within months of opening. It turns out millennials do want options to own and put down roots when offered products that meet their lifestyle choices and spending power. "We think there's an incredibly underserved market of people who can't afford a million-dollar condo in Bethesda who are looking to own," ProMark director of development Pete McLaughlin told Biznow in April 2016. Units at the Octave are small but efficiently designed. Two-bedroom units average 800 square feet and one-bedrooms are typically 500 square feet.
Innovative approaches deliver affordability: Montgomery County has been a leader in crafting and implementing policies that provide much needed affordable housing for those in need. But these policies are not intended to be a one-size-fits-all solution. In the case of the Octave, the county's Department of Housing and Community Affairs exempted ProMark from having to offer moderately priced dwelling units (MPDUs) on site, the rationale being that the unit prices were already low enough to be affordable in the context of Downtown Silver Spring. (However, the developer paid a fee in lieu of providing MPDUs on site.) By eliminating parking, keeping the unit size small and streamlining the condo designs, the developer and architect provided a market-driven, affordable product.
Projects like the Octave demonstrate how the public and private sector can come together to reclaim office buildings and build on trends already in motion. The results can lead to more inclusive, mixed-use, walkable communities throughout the county, raising the bar for planning, design and collaboration.