As many of you know, two streetcar lines are proposed for Arlington County: one along Columbia Pike and one through Crystal City.
Many of the benefits of the transit system are laid out in the planning vision for Columbia Pike & Crystal City, including:
Encouraging smart development;
Providing attractive, comfortable, affordable transit,
Encouraging revitalization, preservation, and affordability, and
Spurring investment.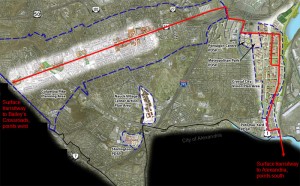 Another aspect of the project, however, is a commitment to integrate public art.  In this case, Barbara Bernstein has been commissioned to create works for several bus shelters along the Crystal City line.  Prototypes, renderings, and sample designs were on view until recently at the Arlington Arts Center, but information can still be found on their website.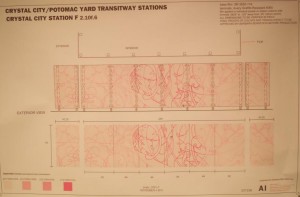 The proposed artworks are large glass panels that will provide windscreens in addition to enhancing the beauty and interest of each stop.  The designs themselves are swirling, waving, looping, interconnected lines meant to serve as a metaphor for the interconnected layout of the system and the lives of the passengers.  As the lines randomly intersect they create shapes – some of which are filled with color, while others create a background of negative space.  Each station will have a distinct color palette that will provide a visual means of identification for each stop.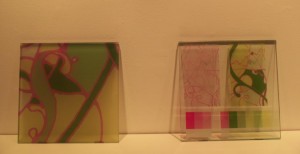 The panels are pretty, well-composed, and eye-catching but also serve a functional purpose as wayfinding guides.  Like many transit-oriented artworks, the identification of a site with a motif or specific installation is an important piece of a well-integrated and designed transit system.
Of course, Montgomery County is in the midst of planning a wide-ranging rapid transit system.  We would be wise to encourage public art integration in our system for many reasons, some of which were discussed in a recent panel discussion at the National Building Museum on Cultural Investments: Economic Impact of the Arts.  This discussion was part of a three-part series, Culture as Catalyst: Past, Present, Future.  (The third program, Industry to Art: Revitalizing Cities through Culture will be held on April 10, 2013.)
Robert Lynch, President and CEO of Americans for the Arts, summarized the basic economic impact of the arts industry at the discussion and also in an article at Huffington Post last June:
"Of the $135.2 billion of economic activity generated by America's arts industry, $61.1 billion comes from the nation's nonprofit arts and culture organizations and $74.1 billion from event-related expenditures by their audiences. This economic activity supports 4.1 million full-time jobs and produces $22.3 billion in revenue to local, state, and federal governments every year — a yield well beyond their collective $4 billion in arts allocations."
See the Arts and Economic Prosperity IV website for more information on national and specific local findings.
There are, however, numerous other reasons why the integration of public art is important to vital transit systems; for example:
Establishing "brand" and community identity;
Making use of and beautifying infrastructure;
Creating vibrancy and interest;
Provoking emotional investment;
Enhancing pedestrian and user comfort; and
Telling stories of culture, history, process, or environment.
If we ever get the Silver Spring Transit Station finished, maybe another icon of transit-related public art, "Penguin Rush Hour" by Sally Callmer, can be renovated and reinstalled.  Let's start the fund-raising now!