Since it was approved in 2010, the White Flint Sector Plan has received much praise. The sector plan establishes the framework to transform a car-centric suburban shopping district known for a sea of under-used parking lots and one of the worst stretches for traffic in Montgomery County into a dynamic mixed-use center.
The plan also envisions new housing options, retail, greatly expanded public use spaces and, above all, a favorable environment for walking and cycling.
In December, planners were pleased to learn that the Maryland Sustainable Growth Commission recognized the implementation phase of the sector plan with a 2012 Smart Growth Communities award. Implementation includes a special taxing district to pay for new transportation infrastructure, a new mixed-use zone, and several innovative development applications.
The award is well deserved. Since the plan was passed, things in White Flint have gotten off to a quick start. The project plans submitted to the Planning Department go a long way toward changing the look and feel of White Flint, particularly Rockville Pike.
Check out the applications:
North Bethesda Market II
North Bethesda Center
North Bethesda Gateway
Each development plan looks to remake aging shopping centers into mixed-use communities with public amenities, new streets, urban plazas, open spaces, and parks. They will place more than 3,000 new residential units on the ground or above ground in sleek high rise and mid-rise buildings within 10 years.
Thanks to the White Flint Metro Station, the plan area is strategically positioned for growth. With the convergence of public transportation, state roads and jobs, as well as a sense that White Flint is Montgomery County's Next Big Thing, development in the area is taking off.
Buzz about White Flint growth has appeared in myriad regional and national news outlets, such as The Washington Post, American Public Radio and the American Planning Association magazine.
During the creation of the sector plan, a swell of community support emerged. Several large property owners formed the White Flint Partnership to support the plan vision and drive its implementation, including the tax district. The Partnership worked closely with residents, many of whom expressed eagerness for positive change in White Flint.
A few hundred residents attended the County Council public hearing on the sector plan, many testifying in support in an unusually positive hearing.
In 2011, planners drafted – and the Planning Board and County Council passed – the Commercial Residential Zone, which provides developers with options to increase density if they create extra amenities for the public. Those might include payment into a farmland preservation fund, constructing energy-efficient buildings, creating more tree canopy and vegetative plantings, and installing green roofs, among other measures.
Current applications in White Flint include public amenities such as:
A pedestrian walkway with wayfinding signs, tree canopy, public parking and artwork
Aggressive stormwater management, including green roofs, bio-filters and underground filter systems
Innovative building design, including a modular 300-foot glass tower
Public park expansion
New urban plazas and open spaces
Enhanced streetscape and tree canopy
Public art
Another key to change in White Flint was creation of a special taxing district to pay for the plan's transportation improvements. Envisioned is a street grid that alleviates traffic and converts large parcels into walkable, urban-style blocks.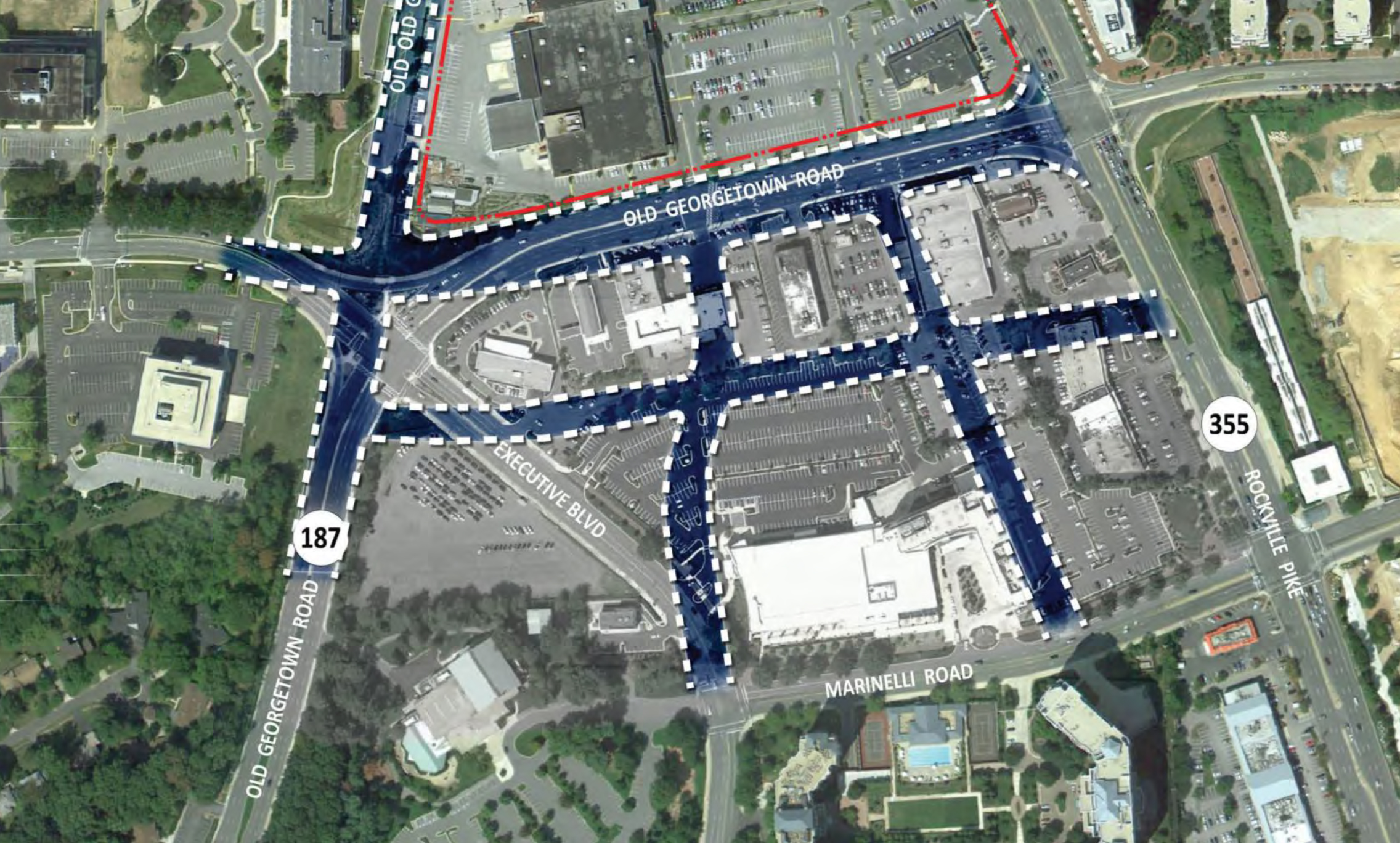 A major improvement is called for on Rockville Pike, envisioned as a boulevard lined with trees, wide sidewalks, bike paths, and transit lanes.
The emphasis on mixed use development leads to less reliance on driving – and resulting carbon emissions – as the main way of getting around. Local residents and workers can walk to services and the Metro, while those traveling to the area by car can park once and walk to multiple destinations.
Planners will receive the award in Annapolis in February.