guest post by Kristin O'Connor
Now If We Can Get the Brook Back in Twinbrook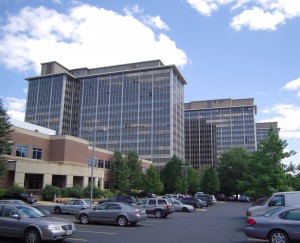 Ah, the environmental benefits of reusing a building—a very large building with tons of existing steel and concrete. Built in the early 1970s, the 18-story Parklawn building is the tallest, most prominent in Twinbrook. Formerly, it housed the Food and Drug Administration before it consolidated employees in White Oak. Since then, much of the building has been vacant.
The cost savings of building materials and energy make this a good sustainable decision. Additionally, the building's proximity to the Red Line Metro station and the WMATA/JBG's Twinbrook Station development, makes re-using the 1.3 million square foot building a good financial and sustainable option for any federal tenant.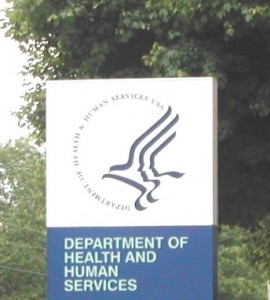 At 5600 Fishers Lane, the building will house a consolidated U.S. Department of Health and Human Services (HHS) agency—about 3,000 employees. This recent decision confirms years of planning aimed at building a strong business community in this strategic growth area along Metro's Red Line. It will bring scores of new workers into the Twinbrook area. As one of the planners assigned to the Twinbrook Sector Plan effort, I couldn't be happier.
This gi-normous building is located in an area identified for technology employment in the 2009 Twinbrook Sector Plan. Roughly bounded by Fishers Lane and Parklawn Drive, the area is envisioned as a high-quality, public/private employment district that would add density near Metro, provide a focused professional office center, connect mixed-uses (retail and housing at Twinbrook Station), and provide public spaces and streetscaping improvements. Planners recommended—and the County Council adopted—new zoning for the Parklawn site that allows the building to be re-used for mixed-uses with a pedestrian focus. Kudos to the General Services Administration for taking notice of the future development potential of the Parklawn site!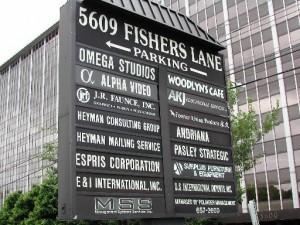 The federal tenant will contribute to these mixed uses in a unified, walkable neighborhood near Metro. One of the County's few communities light industrial areas, Twinbrook has an existing technology and health sector. Neighbors include flex lab space, biotech start-ups, medical transport companies, research facilities, counseling services, and general offices, as well as restaurants, a hair salon, and auto repair services, all compatible with HHS's mission and its employees.
GSA considered five suburban Maryland sites for HHS: One Largo Town Center, University Town Center, New Carrollton Metro Station, King Farm, and the Parklawn Building. The Parklawn site is by far the most sustainable–an existing large office building that can house an entire federal agency, just a few blocks from Metro. Another sustainable feature—it's near other health-related federal agencies such as the National Institutes of Health and the National Navy Medical Center.
As redevelopment progresses, the community will become more urban, with high-quality public spaces, pedestrian-friendly street crossings and trail connections to Metro, urban parks, and other open spaces. And if we can't get the twin brooks back, maybe they could inspire a fountain!
Kristin O'Connor is the lead planner on the Burtonsville Commercial Crossroads Neighborhood Planning Study. You can follow the Burtonsville planning effort at: montgomeryplanning.org/community/burtonsville