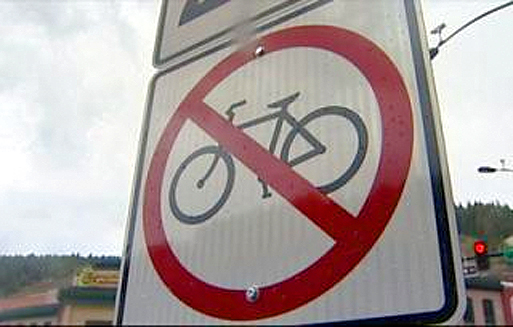 For all those cyclists that find the 'burbs an unfriendly place to bike, you can take comfort that it's not as bad as it could be. A friend sent this to me under the facetious heading "Finally, a town who's planning decisions I can get behind," and it's just too precious not to share.
It seems the town of Black Hawk, Colorado has thought it wise to prohibit cycling on all public streets. The city claims that "with all the buses, trucks and cars already trying to crowd the historic town's narrow streets, the addition of bikes is a hazard." According to officials, the new law has the full support of the citizenry and the local casinos, which happen to be the city's primary source of revenue, provided that it allows exceptions for people that rely on bicycles to get to work. All other cyclists traveling through Black Hawk will have to dismount and walk their bikes through town.
Sadly, this reflects a widely held bias against cycling, especially when it comes to sharing the road with cars. It's interesting to note that despite their considerable difference in size,  the city looks upon the addition of bikes, not the buses, as a hazard. Their decision to allow special permits is equally bizarre, as it makes the roads increasingly unsafe by reducing driver alertness to cyclists. Granted, the permits are for not for travel on the main street, forcing bikes elsewhere (in Black Hawk, I believe they call it "the other street"). Still, it's quite  the effort considering the town is only a quarter mile long.