One of the first things I did when I moved recently was to find the local library.  When I lived in Rockville, I had gotten used to being able to walk to the Twinbrook library and was hoping that my new place was equally library accessible.  It turns out that Long Branch library is about 6 blocks away – across from my two grocery stores, bank, and various other shops and restaurants that I am beginning to explore.  If it hadn't been nearby, I still could have used the Silver Spring library near my office, but for weekends – why take the bus into Silver Spring … unless I'm going to the gym….
When I got to the library, I looked over the community board: what events and meetings were happening in the neighborhood?  What issues were important to the community?  The board reminded me that libraries are a crucial to making connections within communities – as meeting halls, hang outs, information hubs, and – of course – knowledge depositories.
A new library in the District points to how well libraries can foster connections and build social capital in a neighborhood.  As reported by Philip Kennicott in the Washington Post, Benning Library features entrances that open directly on sidewalks — connecting the facility to pedestrians, especially those using the adjacent shopping center.  Inside, books, periodicals, digital media, computer terminals, community space, and meeting rooms ensure that generations and people of diverse backgrounds can use the library as a nucleus for building and enriching their community.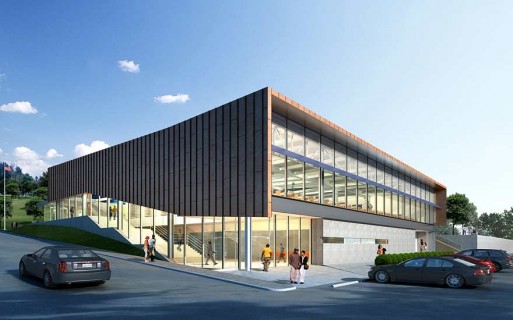 The Benning Library building is a well-designed, well-integrated piece of contemporary architecture by Davis Brody Bond Aedas.  The fact that care was given to the design says something to the people who will use the library – that they are important and worth investing in.
Happily, similar care and attention to design were given to a newly designed library in Montgomery County: the Olney Library near the intersection of Georgia Avenue and Laytonsville Road.  As one of my urban design colleagues says, the redesign provides a soaring new roofline to update the rather tired style of the 80's era building.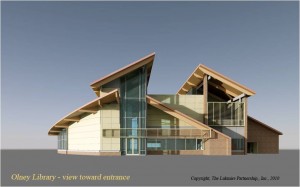 Both designs make the most of pedestrian links to shopping and residential areas, reinforcing social connections and decreasing environmental impacts. The fact that both designs also emphasize and allow better access to books in print as well as digital information online has further environmental benefits. While every book published may have a lesser impact on natural resources than the manufacture of every electronic reader, a shared book reduces the environmental impact even more … and sharing knowledge and resources furthers a sense of community. As for me, I'll be at the library soon to pick up Jan Gehl's new book.