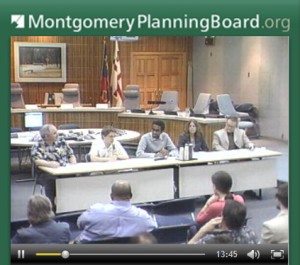 The ReThink Montgomery speaker series began last night with a panel of five area bloggers discussing how they began, cultivated, and use their sites to disseminate knowledge and spark conversations. The panel, moderated by Community Planner Fred Boyd, generously gave us their time – when I'm sure they would have rather been writing – to talk about how individual sparks of interest led them to the relatively new platform of blogging as a value-added news and editorial medium.
Like most blogs, these writers use their sites as collaborative spaces, political soapboxes, breaking-news outlets, and link depositories allowing people to pursue interests deeper throughout the web. What's key to differentiating their sites from general topical blogs is the focus on hyper-locality – the issues that affect neighborhoods directly. What is most interesting about blogs, in contrast to centralized news media, is that they use hyper-local perspectives to give ground-level views on policies that show how impacts vary given different contexts.
Similarly, by highlighting specific impacts on daily lives, well-sourced and well-written blogs can make the connections between policy discussions and day-to-day reality. Through this process, many people who were disengaged become engaged – and maybe a little enlightened. In the best cases, such discussions lead to support of policies that citizens feel can help create better places. Without such supportive voices, change is difficult; policy makers rarely hear from anyone unless they are in opposition and typically even those voices come too late – after the policy has been adopted and its effects are being felt.
As demographics change and knowledge distribution continues to decentralize, creating networks that tie together a larger and more diverse population will be crucial to creating policies that engage and enable the citizenry to make choices about their quality of place. This was a great start to a series that promises to continue opening the dialogue.
Meet the panelists.

(And if you were wondering … the blog title is from Beastie Boys' "The Sounds of Science" off Paul's Boutique. Ten points if you guessed.)