LOCAL
Thayer Avenue: Date Night 8407
Thayer Avenue hits up 8407 Kitchen Bar and calls it: "Awesome. Possibly the best restaurant right now in Silver Spring."
Thayer Avenue: Suck It Up and Pay for Saturday
Thayer also thinks that Silver Springers should grin and bear the Saturday metering, and he's not afraid to tell you.
DCist: First Look: Sidebar
Rave reviews all around for Sidebar, Jackie Greenbaum's latest creation in Silver Spring. We're a little late on the link – Sidebar opened in early April – but further investigation will be conducted soon.
Just Up The Pike: Putting the Brakes on Food Trucks
What to do with all those vacant lots in Silver Spring? Park some foods trucks, say Dan Reed. Our own Claudia Kousoulas, resident expert on all things food truck-related, shares his thoughts.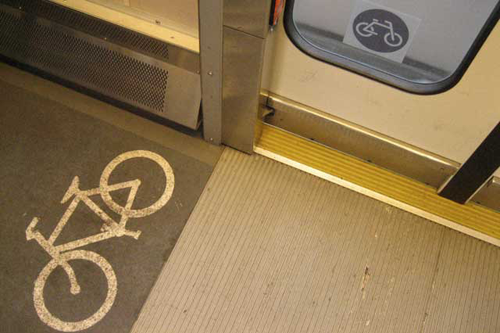 NOT SO LOCAL
Reconnecting America: The Role of the Bicycle in Transit-Oriented Development
A four-part series looks at everything from bicycle stations to policy-decisions that can help foster the inclusion of bicycles as alternative transportation modes.
Kaid Benfield [NRDC]: For Walkability and Community, Put the Building on the Street and the Parking in Back
Nobody likes looking at a parking garage, unless it looks like this. If you're going with the standard stack-and-ramp, we don't want to see it. In this post, Kaid Benfield demonstrates the common sense urban design of parking, and why not have to look at it makes our communities more enjoyable to inhabit.
GOOD: Agriculture is the New Golf: Rethinking Suburban Communities
Only 17 percent of people living in golf-course communities play golf more than once a year. Why not grow food? GOOD looks at whether urban agriculture may be the next hot community amenity.
Treehugger: Customizable Notebooks from Scout Books
Architects. Designers. You know who you are, carrying around your Moleskine notebook ever so conspicuously, a silent signal that screams "I'm creative!" If Matisse, van Gogh, and Hemingway used one, surely you must too. Well, now's your chance to demonstrate that inspired mind of yours and go eco-friendly at the same time. Customize your notebook with Scout Books, a Moleskine-like company that makes their books with 100% recycled paper and prints with soy inks.
Next American City: Frank Lloyd Wright's Utopian Dystopia
Frank Lloyd Wright was nuts. There's no other way to put it. The man wore a top hat and cape that at times gave him more than a passing resemblance to Dracula. Ever the ego-maniac, he devised a model utopian city that is strikingly similar to our current suburban land form. Also of note, he designed some pretty decent buildings.