On the rare occasions that the words "architectural character" and "Fenton Village" are used in the same sentence, they are usually also joined by the words "lack", "dearth", and "paucity" (ADMIT IT!).  (For the uninitiated, the Fenton Village is centered one block east of Georgia Avenue in Silver Spring, north of the train tracks.)   These exclamations are not without foundation: Silver Spring Towers, Safeway, and 8120 Fenton Street are not doing the street any favors.  Nor do the converted and expiring bungalows and four-squares suggest a Village with a unique character (cf. Forest Hills Gardens, et. al).
But the dedicated observer (thank you!) will notice that, scattered about its ten or twelve blocks, Fenton Village has many buildings that share an engaging architectural language that includes a mix of modernist, deco, and simple classical elements  (I will let the Silver Spring Historical Society provide the nomenclature).  These buildings are most typically one and two stories (mostly retail, restaurant, and service), but there are a few more-vertical examples (pretty much office buildings).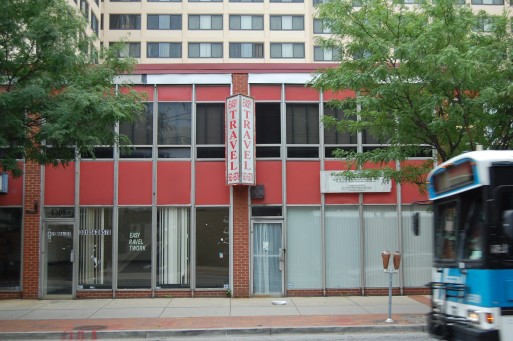 These buildings are scaled to engage and define the street and provide an urban village (add your own quotes as necessary) feel characteristic of the models to which Fenton Village seems to aspire: Mount Pleasant Street and Columbia Road in the District.  As more development proposals come in for Fenton Village (six and counting!),  the design teams should build upon these precedents (not literally!).  So, the next time you head over to Fenton Village to get your fix of good coffee, comic books, golden oldie 45s, used books, Ethiopian food, or spicy beef patty, hold your head up high (literally!) and check out the cool wallpaper.