Witold Rybczynski
In my last post, I began reviewing two of my favorite books from Witold Rybczynski, someone I consider one of the best authors in architecture and urban studies. The first post covered Last Harvest (2007) . Contrast that to City Life (1995), where Rybczynski theorizes:
'Äú'Ķthe American city has been a stage for the ideas of ordinary people: the small business man on Main Street, the franchisee along the commercial strip, the family in the suburbs. It all adds up to a disparate vision of the city. Perhaps the American urban stage is best described as cinematic rather than theatrical. A jumbled back lot with cheek-by-jowl assortment of different sets for different productions'Ķ.'ÄĚ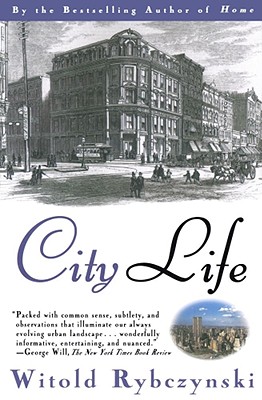 Like Last Harvest, there are many digressions along the way. In this case into:
Etymology
Overviews of works by Lynch, Mumford, Sitte, and others
Design impacts of Burnham and Olmsted
Paradigmatic urban forms
Expansion of Fernand Braudel's theory of stages in city development to include industrial, post-industrial, and information-age cities
The Laws of the Indies
De Tocqueville's visit to the States
The Land Ordinance of 1785
Immigration
Real estate speculation
The Columbian Exposition and the Civic Art (City Beautiful) movement
The interesting contrasts Rybczynski describes between North American and European cities have a lot to do with the fact that the New World was basically (to the colonists) a blank slate. But there were important differences between Hispanic, French, and English colonial urbanization that resulted in patterns that last into the 21st century.
Wonderful brief histories and analysis are provided on cities as diverse as Saint Augustine, Quebec, Montreal, New Orleans, New York, Boston, New Haven, Charleston, Annapolis (a high-point in early planning thanks to our early governor, Francis Nicholson), Williamsburg, Philadelphia, Savannah, Woodstock, and Chicago. From these precedents, Rybczynski draws several generalities that distinguish North American cities dating back to their roots. Because land was cheap, 'Äúempty'ÄĚ and populations were sparse, people spread out. Open space was treasured, resulting in broad streets and public squares 'Äď the desire for spaciousness was built into our psyche in the infancy of our republic. Also, grids established an easy form of real estate development and the commodification of land. The imprint of religious tolerance and democratic governance can be found in the patterns of open spaces, relationships of civic and institutional buildings, and the focus on individual lots for houses.
A large impact on the form of our cities is, of course, functional zoning that separates uses and robs places of variety and vitality. Thus, a good many pages are devoted to early zoning ordinances (Los Angeles 'Äď 1907 and New York 'Äď 1916), building heights, and uses. In large part, as a reaction to the Civic Art ideals, the First National Conference on City Planning in 1909 deemed attempts to beautify cities 'Äúas exercises in 'Äėcivic vanity'Äô and 'Äėexternal adornment.'Äô The bureaucrats and engineers felt that city planning should be concerned with engineering, economic efficiency, and social reform, not aesthetics. They asserted that whatever functioned well would automatically produce a beautiful, or at least acceptable, urban environment.'ÄĚ Sigh, we still suffer from the results of such thinking.
A large portion of the second half of the book details the tensions between competing theories, governmental policies, and the flight of the population to the suburbs. All of these intertwined ideas are told, of course, through a wandering history with anecdotes, observations, and citations from numerous practitioners, government acts, and examples. These ideas are fleshed out in more detail in Rybczynski's latest book, Makeshift Metropolis.
The final two chapters address the revitalization of downtowns and an approach Rybczynski calls 'ÄúThe Best of Both Worlds.'ÄĚ His paradigm is his home in Chestnut Hill in northwest Philadelphia. Chestnut Hill has several attributes:
A diverse housing stock including multi-family, townhouse, and detached houses
A population of about 10,000 people within less than 3 square miles (about 5 people per acre)
A commercial main street
Strong connections to Philadelphia's cultural and business core and the greater metropolitan area
These attributes point to a networked system of mid-size centers within greater regions, but will require connections 'Äď electronic and physical 'Äď to each other with multi-modal transit, smart power grids, and numerous other more sustainable infrastructure upgrades that we need to begin planning for now.
To keep up with emerging ideas, highlight especially important works, and provide diverse views on issues in planning and design, I will be highlighting some of my past and current readings over the next year.
To begin, I'd like to feature a pair of books from one of the best authors in architecture and urban studies: Witold Rybczynski. Two of his books contrast the extremes of development: Last Harvest (2007) and City Life (1995). (For now, I will forgo his wonderful biography of Frederick Law Olmsted, A Clearing in the Distance, and his latest, Makeshift Metropolis.)
The subtitle of Last Harvest is a summary of its theme: 'ÄúHow a Cornfield Became New Daleville: Real Estate Development in America from George Washington to the Builders of the Twenty-first Century, and Why We Live in Houses Anyway'ÄĚ. It covers a lot of ground in 300 pages, but, it'Äôs a fast, pleasant, informative read. My only real gripe is the lack of illustrations and maps.
The narrative of Last Harvest is not linear 'Äď it weaves history into a story about the development of New Daleville in Londonderry Township in Chester County, PA. While focusing on creating a 'Äúnew urbanist'ÄĚ suburb from a cornfield and the various decisions and perspectives of the developer, the municipal representative, citizens, and designers, Rybczynski provides an overview of several precedents and important general factors of such development. These include a brief history of:
Unwin's seminal work, Town Planning in Practice;
Zoning history;
Real estate transactions by the first settlers;
Kentlands (here in Montgomery County);
Sprawl and suburbanization, which Rybczynski describes under the heading of 'Äúscatteration'ÄĚ;
Housing patterns and typologies; and
Consumer preferences and lifestyles.
The bulk of the book, believe it or not, focuses on the minutiae of the meetings, proposals, redesigns, meetings, pricing and marketing concerns, compromises, and more meetings required to obtain the support and, ultimately, the approvals to create New Daleville. It'Äôs a fascinating 'Äď really, I promise 'Äď description that will sound familiar to those who are active in zoning and planning discussions in Montgomery County, but it provides a view into many aspects of the process that aren'Äôt typically seen. This is an important contribution to the understanding of the whole picture of land development, zoning decisions, and planning that should allow us all to come to the table with a wider perspective.
New Daleville was ultimately built out by Ryan Homes with homes ranging from the low to high $200,000s. Alas, if you really like this style of home (and lifestyle), it is sold out 'Äď models such as the Savoy, the Melville, and the Austin (most named after authors 'Ķ not sure where the Savoy came from) apparently lived up to the developer'Äôs description, 'ÄúReminiscent of old-time neighborhoods, this lovely neo-traditional community has a central boulevard lined with picket fences leading you into tree-lined streets and alley ways. The lush landscape is laced with bench-lined paths and winding walkways to pocket parks and recreation areas where neighbors and friends can gather and have fun.'ÄĚ Of course, there is not a store or office within walking distance'Ķ.
A complete contrast to this history is provided in City Life. Here, Rybczynski sets out to analyze why our cities developed into the form(s) they did. Specifically, why aren't our cities like European cities?
More, next post.