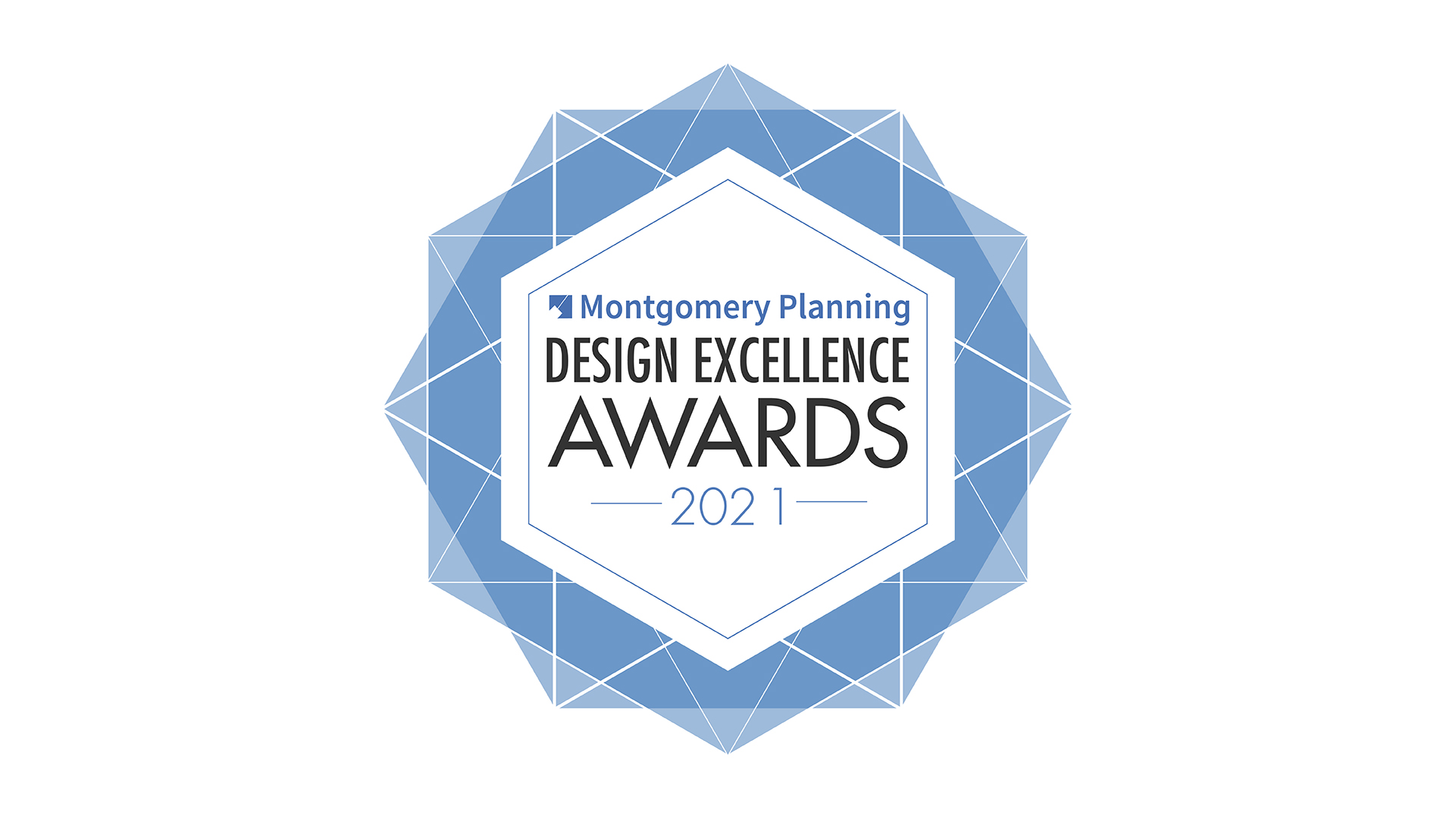 The creation of complete communities (a primary tenet of our new Thrive General Plan proposal) within our urban, suburban, and rural centers can only be achieved through quality, sustainable architectural and urban design that supports a strong and vibrant public realm.  Buildings frame and activate streets and parks, and their symbiotic relationship supports community building. Through quality design we can start to protect our health, safety, and welfare in a way that addresses the challenges of increasingly extreme climate conditions and social inequity. Excellent architectural design can not only support a great public realm, but it also has the power to attract and inspire all people.  Excellent architectural, urban, or landscape design, at all scales of development, has the power to make our world better. In Montgomery County, design excellence is about using architecture and urban design in combination to make the mundane more interesting, and to create streetscapes and spaces that enhance human interaction.
Design excellence is increasingly important as available land for development in our county shrinks, our population grows, and the need for truly public spaces becomes more urgent. These challenges present great opportunities to create attractive, safe, and sustainable places to live, work, learn, shop and play. Six year ago, the Montgomery County Planning Department launched a comprehensive Design Excellence initiative that continues today through our project review process; master-planning and design-guidelines work; zoning and policy review; and a biennial design awards competition. Through these efforts and in collaboration with our diverse communities, we want to be better without losing those qualities that made Montgomery County great.
In mid-June, the Montgomery County Planning Department opened our webpage to accept submissions for the 2021 Design Excellence Awards. Submissions are due by July 19, 2021. The Design Excellence Awards honor buildings, places, and spaces that enhance those best qualities and strengthen the appeal and vitality of our county. This initiative showcases developments that are environmentally, socially, and economically sustainable. This year, we will recognize design excellence in three categories. The winners will be selected by an independent, distinguished jury of regional design professionals. The first award will highlight exceptional buildings, landscapes, and urban designs and their contributions to enhancing the public realm. These designs will exemplify extraordinary design applications that promote strong community character. The second award will focus on exceptional multi-family housing. Specifically, multi-family housing that positively impacts the greater community through enhanced human connections, health, resilience, and accessibility while also strengthening the lives of those who live there. The third top award will be given to a public project that exemplifies the best qualities of design, supporting the public realm, community building, and placemaking. The winning public project will inspire neighborhood residents and their guests and bring beauty and value to the community. These exemplary designs will demonstrate how landscape and architecture can be seamlessly integrated into surrounding neighborhoods. We want to honor the places and spaces that people love and will cherish well into the future.
This year's winners will be honored with an event at our new Wheaton Headquarters building on Thursday, October 21, 2021 in conjunction with the American Institute of Architects Potomac Valley Chapter design awards.  These awards will present a chance to shine a bright light on the best projects that make Montgomery County great. The event will be an opportunity to get inspired, mix and mingle with fellow designers and community developers, and continue to support the positive growth of Montgomery County. Much has happened during the past two years in all areas of the county. We look forward to seeing what the architectural and development community has created.