I'm interrupting our regularly-scheduled programming (explaining Thrive Montgomery 2050) to share some fresh data on public engagement with our agency during COVID-19 along with some thoughts about the use of technology as a tool for participation in government.
Thanks to our crack IT staff, we have continued holding hearings on development applications throughout the pandemic – in fact, we have not cancelled a single Planning Board meeting, delayed any master plans, or stopped any other project.
This chart shows the number of people who participated in Planning Board meetings remotely over the course of the year when COVID-19 restrictions on in-person public gatherings have been in effect and the number who participated in person over the previous twelve months:
As you can see, the number of every category of participant (including government staff from other agencies, applicants for development approvals and their consultants and lawyers, and residents and other interested members of the public) have gone up. These participants all logged or dialed in (using Microsoft Teams or calling in by phone) to join our meetings.
In addition to the people who participated by logging or calling in, we logged 60,256 views of Planning Board meetings on our web site, which offers live streams and on-demand recordings). The number of subscribers to our electronic newsletter grew by 1,546, to 13,583 people, an increase of more than 12 percent. The Planning Department held more than 40 "virtual" public events with over 1,400 participants during this period.
Of course, major projects continue to attract a disproportionate share of participants. The public hearing on Thrive Montgomery 2050, our update to the county's comprehensive plan, drew 85 people testifying by videoconference or phone. Our experience with Parks Department projects was, if anything, even more successful For example, our virtual meetings on planned upgrades to Wheaton Regional Park drew 240 participants and we received 1,676 written comments.
Many people have congratulated us on continuing our work despite the challenges created by the public health emergency. Some, however, argue even now that we should defer consideration of controversial decisions on the grounds that interested members of the public are unable to participate fully and provide input on our work during COVID-19.
You can draw your own conclusions, but I think that at a minimum this data demonstrates that we are only providing the opportunity to weigh in but that many people are taking advantage of it. In some ways the use of videoconferencing makes participation much easier – most obviously because nobody has to come to our headquarters (which was in downtown Silver Spring but moved to Wheaton six months ago) to testify. I have seen many people log in to testify from their kitchen or bedroom, and a few even appeared by iPhone from their cars. While a few people have experienced difficulties using Microsoft Teams, our IT staff has worked one-on-one with anyone who has expressed concerns about how to log in. Some people choose to participate without video by calling in on a landline or cell phone.
Of course, online testimony has its limitations. Before COVID-19, I usually allowed anyone in attendance at a Planning Board meeting to speak on any item, including briefings where no decision was being made and work sessions on master plans (previous Planning Board chairs generally have limited public participation in Planning Board meetings to formal hearings). The logistics involved in arranging for participation in videoconferencing calls have made this impracticable.
Is testimony delivered in a videoconference or over the phone as effective as if it had been in person? I have continued to allow people testifying at Planning Board meetings to speak beyond the time limits outlined in our rules, so there is no basis for suggesting that anyone has been denied the chance to communicate whatever they felt we needed to know before making a decision.
On the other hand, I am often in the position of testifying at County Council hearings, so I know from experience that there are intangible – or at least hard-to-quantify – benefits to being able to meet in person. The most important of these might be the ability to have informal conversations with staff, applicants, and other members of the public in the hallway or lobby between agenda items.
I'll close with some bonus data for those who are interested in how the pandemic might have influenced applications for development projects. As you can see from the chart below, we have maintained a steady flow of applications. Some of these projects may not move forward immediately, but judging from the pace of regulatory activity I think it's fair to say that development activity has not been slowed to anything like the degree caused by the 2008 economic meltdown or other economic downturns.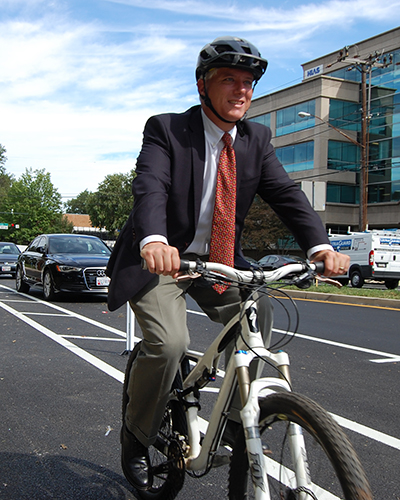 About the author
Casey Anderson has served on the Montgomery County Planning Board since 2011 and was appointed Chair in 2014. He also serves as vice chair of the Maryland-National Capital Park and Planning Commission, the bi-county agency established by state law that regulates real estate development, plans transportation infrastructure, and manages the park systems in Montgomery and Prince George's Counties.