John Joseph Earley was a local artisan who was an innovator of colorful concrete mosaic and a pioneer in prefabricated concrete construction. Earley implemented his earliest projects in Montgomery County and the Washington, DC region before this master craftsman's work gained nationwide interest. [Note: see below for information about a tour of two of Earley's DC projects.]
John J. Earley designed demonstration houses in Silver Spring made of his polychrome precast concrete panels. John J. Earley's Polychrome Houses (1934–35), at Sutherland Drive and Colesville Road, Silver Spring have been called the birthplace of precast architectural concrete. This collection of five modernist houses with brilliant exterior polychrome walls was a prototype project for John Joseph Earley's prefabricated concrete construction. The Polychrome Historic District is designated on Montgomery County's Master Plan for Historic Preservation, and listed in the National Register of Historic Places.
Earley's signature concrete mosaic panels are composed of brilliantly colored stones. The Polychrome houses are embellished with Art Deco detailing of chevron pattern panels, decorative friezes, and accent blocks.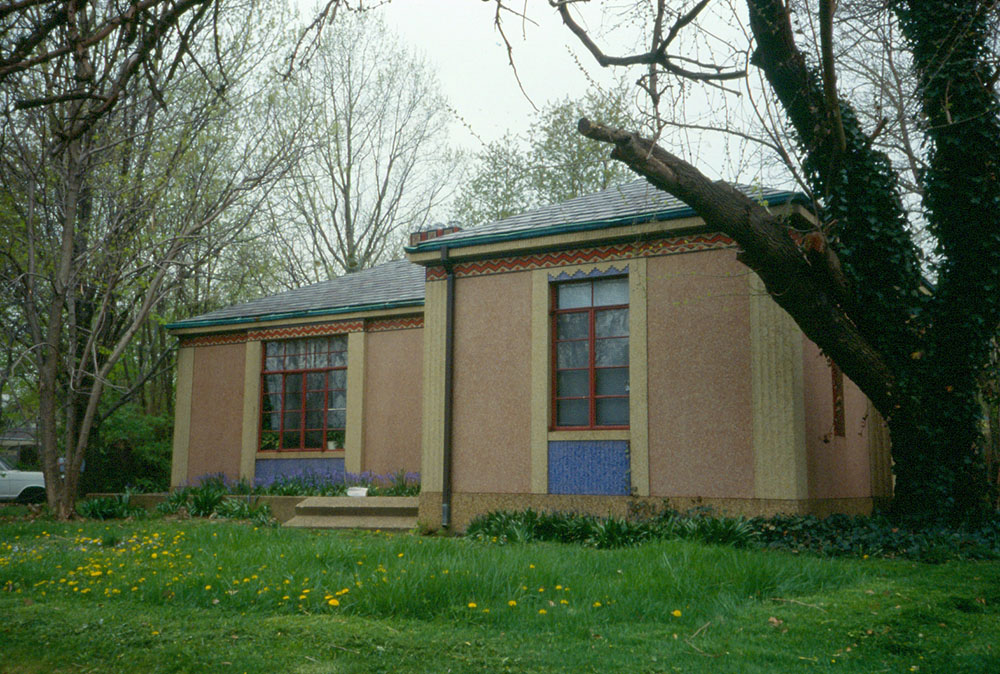 For this Colesville Road house, main panels are colored with pink-rose Oklahoma jasperite; pillars are of gray Potomac River gravel; under window panels are crushed cobalt glass; and the main frieze is crushed glass of red, black and gold.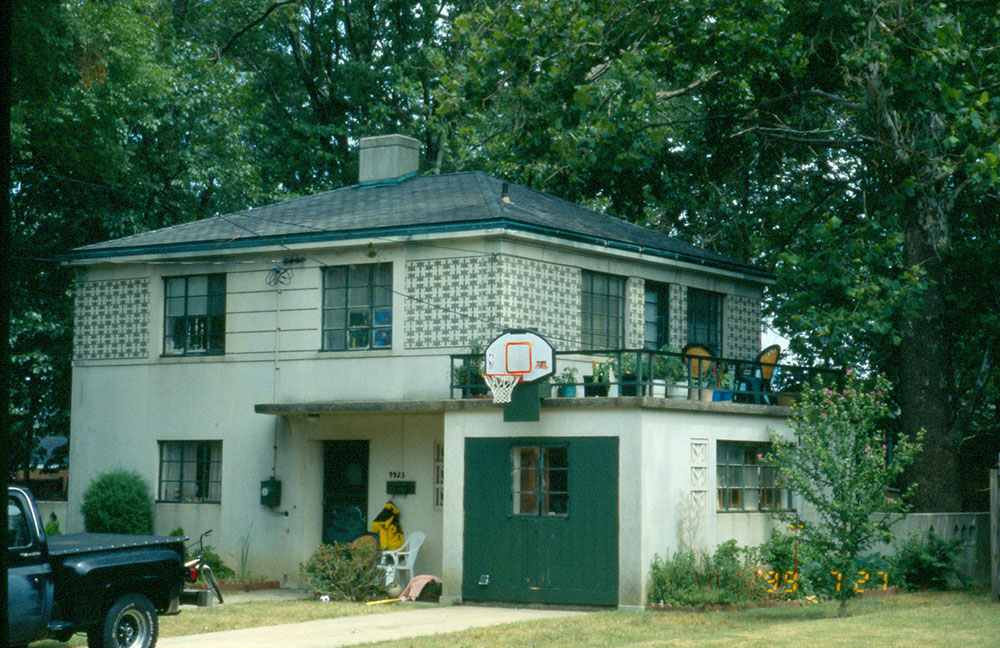 Two-story houses on Sutherland Drive feature colorful patterned panels. These larger houses were early proof to skeptics of the suitability of this construction method for larger scale buildings.
The Montgomery County Historic Preservation Commission recently approved an Eagle Scout project to install an interpretive marker in the Polychrome District celebrating Earley and his polychrome precast concrete houses.
Born in New York City, Earley moved to Washington, DC, as a boy and studied at St. John's College. A fifth-generation stone carver, Earley developed the "Earley Process," which became the basis for modern concrete panel construction. Though Earley died in 1945, his studio continued to operate, producing cast concrete panels and decorative mosaics until it closed in 1973.
The Earley Studio designed a concrete mosaic panel for the front façade of John Samperton's North Chevy Chase Christian Church.
Tour of Earley's Early Work
The Association for Preservation Technology and the DC Preservation League are sponsoring a tour of John J. Earley's first projects in Washington, DC: the Shrine of the Sacred Heart (1922) and Meridian Hill Park (1914-1940) on Saturday, June 18, 2016.
Photographs: Polychrome Houses – Constance Terry and Carol Kennedy; North Chevy Chase Christian Church – Carol Highsmith.
For more information about John J. Earley projects in Montgomery County, see the book Montgomery Modern: Modern Architecture in Montgomery County, Maryland, 1930-1979 by Clare Lise Kelly (M-NCPPC, 2015).  www.montgomeryplanning.org/montgomerymodern

Montgomery Modern explores mid-century modern buildings and communities that reflect the optimistic spirit of the post-war era in Montgomery County, Maryland. From International Style office towers to Googie style stores and contemporary tract houses, Montgomery Modern celebrates the buildings, technology, and materials of the Atomic Age, from the late 1940s through the 1960s. A half century later, we now have perspective to appreciate these resources as a product of their time.