About fifty people attended an open house at the Planning Department last weekend. Of all the intelligent questions and interesting conversations I had with people who stopped at the historic preservation station, my favorite was with an elementary school-aged girl who came in with her mom and younger brother. Our conversation went something like this.
I asked if the girl if knew what historic preservation was. She shrugged. I pointed to a display with photos of some old buildings, including a house in Takoma Park that had been abandoned and condemned but has recently been rehabilitated, sold, and is again lived in. She offered that preservation was about saving old buildings. Then I asked if she knew why historic preservation was important. A slight hesitation. A prompt from her mom about the three Rs. That was all it took. The girl took on an expression of understanding and confidence.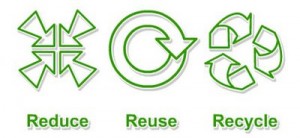 She told me that historic preservation is important because it was better to reuse buildings than to throw them in the trash.
Yes! This girl got it. OK, it took a slight prompt from her mom. But she got it. She was thinking differently. It is better to reuse buildings than to throw them in the trash.
I won't claim that this girl will become a preservationist because of our brief conversation at the Planning Department open house (although I hope she does). But this young girl – and her mom – made my day. And they gave all of us something to think about. Reduce. Reuse. Recycle. This environmental credo is a big part of why I think historic preservation is not just important, but essential. Perhaps – just perhaps – as this girl and her little brother grow up there will come a time that more of us will apply the three Rs to our buildings, when it will be just as second nature to reuse a building as it is to refill a reusable water bottle.