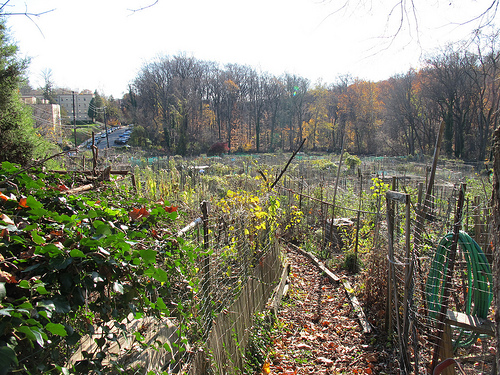 Last weekend we visited the Glover-Archbald Community Garden, near DC's National Cathedral (and 2Amys Pizza!), to drop off some straw for a friend's patch (Image above lifted from Prince of Petworth).  Nearly three acres, the community garden is one of several associated with the District's Field to Fork Initiative.  Our Montgomery County Parks Department Community Gardens Program is a similar effort.  For folks without the proper room or aspect for gardens in their yards, community garden plots are an excellent opportunity to bring nature into more urbanized areas, connect people back to the soil, and produce some mighty fine fruit and veg in the process.
In addition to the programs mentioned above, urban agriculture is on the minds of many communities, planners, and gardners, both far and near (there's even a magazine) .  The Southlands Development in Tsawwassen, British Columbia, for example, strives to integrate agricultural land into their community plan, and outfits like Growing Power in Milwaukee and Chicago, are re-introducing food crops into city neighborhoods.
Locally, Engaged Community Offshoots (ECO), together with M-NCPPC and Kaiser Permanente, is organizing a Chesapeake Urban Farming Summit on June 18 in Beltsville, MD, to talk about everything from the hands-on aspects to policy approaches.  The keynote speaker will be Will Allen, founder of Growing Power, who was recently featured in a New York Times article.  The summit is an all-day conference and there is a modest registration fee.  See you there!