Greening Montgomery County by planting trees
The Montgomery County Planning Department has launched a tree planting program, Leaves for Neighborhoods, to increase the county's tree canopy on residential property. Partner with us by planting shade trees in your yard – with help from a $40 coupon when you buy a tree with a retail value of $75 at participating nurseries. Download coupon.
The State of Maryland is working with businesses and communities to plant 1 million trees by 2011 and has issued a coupon that can be used with the Leaves for Neighborhood discount. Learn more.
Environmental benefits
Trees protect soil and help prevent erosion
Trees absorb carbon dioxide and improve local air quality
Trees filter stormwater runoff to improve local water quality in streams, rivers and tributaries
Native trees are drought-tolerant and need less water than non-native trees
Your actions result in proactive environmental stewardship
Economic benefits
Trees can increase residential property values by as much as 15 percent
Shade trees can lower energy (heating and air-conditioning) costs by 15-30 percent
Proper placement of trees on your property can block wind, further increasing energy savings
The Leaves for Neighborhoods campaign is funded by the Montgomery County Forest Conservation Fund, which requires reforestation or a fee in lieu payment into the fund as part of the development review process. Learn more about the County's Forest Conservation Law.
Participating Nurseries and Garden Centers
Tree species
Adapted to Montgomery County's climate, soils and terrain in the Piedmont region, native trees often need less water and maintenance and attract birds, butterflies, squirrels, small animals and deer whose habitat is minimized by land development. Some birds pollinate flowers and consume garden pests. And of course, butterflies, amphibians, and birds in the yard are fun to watch. View Leaves for Neighborhoods qualifying trees.
Tree Planting Tips
Learn more about how to plant a tree with the best success for long-term survival. Below you'll find some tips and specifications on how to plant your tree succesfully.
Undisturbed Soil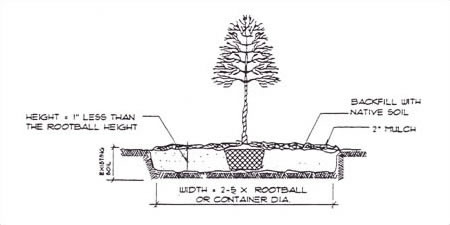 Disturbed Soil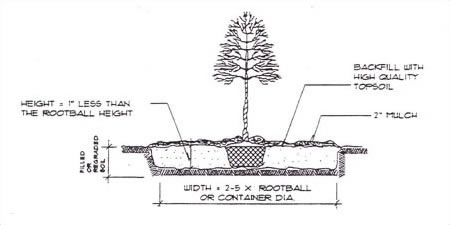 Planting on Slope
Last Updated: January 23, 2019