Bethesda Downtown Plan Meetings and Outreach
News and Events
Public Hearing for SMA – September 12, 2017
Pedestrian and Bicycle Infrastructure Meeting
New! View the Power Point presentation [PDF] from the July 20 Planning Board Work Session #1 – Presentation/Discussion
New! Read the latest News Release on Bethesda Downtown Sector Plan Updates.
Review the Bethesda Downtown Plan Public Hearing Draft [PDF] (please note the file is large and may take a moment to load).
View the Bethesda Downtown Plan Power Point Presentation [PDF] that was presented to the Planning Board on May 21.Attend the Public Hearing on Wednesday, June 24 at the Bethesda-Chevy Chase Regional Services Center (4805 Edgemoor Lane, Bethesda, MD 20814) from 2:00 to 5:30 p.m. and 7:00 to 9:30 p.m.
View the Testimony lists from the June 24, 2015 Public Hearing (updated June 24, 2015)
Just Released: Bethesda Downtown Plan – Staff Draft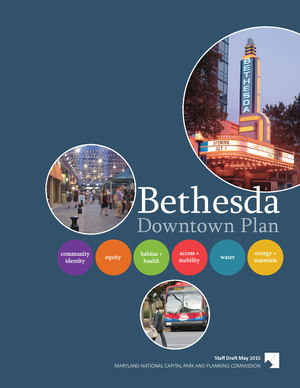 This new plan builds on the success of Downtown Bethesda by offering ways to strengthen its centers of activity – Bethesda Row, Wisconsin Avenue corridor, Woodmont Triangle and other established and emerging districts – over the next 20 years. Among its recommendations is a high performance area that incentivizes more energy-efficient buildings, new parks, tree-lined streets and innovative storm water management. The priority of the plan is to create a truly sustainable downtown. Other goals of the plan focus on:
-A mix of housing options, including preservation of market-rate affordable apartments and new moderately priced dwelling units in exchange for development incentives.
-New and/or expanded civic greens at Veteran's Park, Bethesda Farm Women's Cooperative Market and Capital Crescent Trail.
-Economic competitiveness within the region based on new development, public amenities and proximity to transit, including Metrorail and proposed Purple Line light rail.
-Density averaging (a planning tool that allows square footage to be sent from one mixed-use site to another mixed-use site) to create or enlarge parks, protect significant community landmarks and retain affordable housing.
View the Bethesda Downtown Plan Staff Draft [PDF].
Work on the Staff Draft of the Bethesda Downtown Sector Plan began in January 2014. Community participation was encouraged through public meetings and workshops, online surveys and happy hour events, which were intended to reach residents who don't typically participate in the planning process.
The Plan serves as an amendment to the approved and adopted 1994 Bethesda Central Business District Sector Plan and the 2006 Woodmont Triangle Amendment to that Sector Plan.
After the Board's public hearing in June, the plan will be revised through work sessions with the Planning Board before the final Bethesda Downtown Sector Plan is presented to the County Council for approval.  Council action is anticipated in the spring of 2016.
Learn more about the planning process for the Bethesda Downtown Plan.
For questions or comments about the Staff Draft, please email bethesdadownplan@montgomeryplanning.org
Video of the Plan Concepts Briefing
The Plan Concepts Briefing was presented to the Planning Board on Thursday, December 11, 2014.
Thank you for participating in the Feeback Loop. Survey results will be posted here soon. The purpose of the Feedback Loop was to help staff get a general sense of the level of agreement in the community with the direction of the work on the plan concepts. We set up the Feedback Loop so you could focus on what matters most to you and answer a few questions or many, depending on your preferences. This was an informal way for us to hear from you as we move forward on the Staff Draft Plan.
Here are the slides from the presentation: Bethesda Downtown Plan Concepts:Planning Board Briefing 12.11.14. [PDF]
Here is theFeedback Loop which also includes the slides.
Watch a Video of the Retail Study Briefing
The Plan Concepts are more detailed than the Draft Concept Framework Plan shown here

See the Latest 'Properties Under Discussion' – Ideas for the Future
The 'Properties Under Discussion' map is about ideas for the longer term future for consideration as we do this sector plan update. We encourage you all to use this map and to continue communicating via e-mail, phone conversations and face to face meet-ups to confer, collaborate and find common ground as we move forward with work on the Sector Plan.  This map will be updated as we receive information from property owners.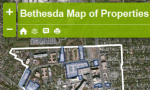 See What Projects are Already Moving Forward: Recent Approvals and Pending
This map, known as the "Development Finder" shows projects that are recently completed or are already moving forward through our Development Review process under the current 1994 Bethesda Central Business District Plan or the 2006 Woodmont Triangle Amendment to that plan. Note that there is a drop down menu where you can select what you would like to view, such as "Preliminary Plans", "Site Plans", or "Sketch Plans". They don't all show up on the map at the same time.
Video and Slides from the Property Owners' Presentations October 29
You can see the slides and video from the presentations on October 29, 2014 right here.
Slides Bethesda Downtown Plan Property Owners Forum [PDF]
Help Engage The Missing Millennials !
Did you know that:
40 percent of the residents of Downtown Bethesda are Millennials (age 20-34)? >
20 percent are Gen-X'ers?
26 percent of the workers in Downtown Bethesda are under the age of 30?
30 percent consider themselves to be of a "non-white" race?
So, we thank you for being involved and hope that you will help us engage the missing. We welcome your:
Insights and ideas;
Offers to host an activity;
Willingness to encourage others to sign up for the E-Mail List or come to a future event.
Letters and More
Meetings
Letters: Your Thoughts and Concerns-This section is currently being updated 12/5/14.
Ideas and Images
How You Can Participate and Stay Connected…
Join our e-mail list
Follow us on Twitter: @bethesdaplanner #bethesdadowntownplan
Write to us at BethesdaDowntownPlan@montgomeryplanning.org
Meet with us in our offices in Silver Spring, or in Bethesda, or at your own group's meeting. Contact us to schedule.
Come to public meetings, workshops and other outreach events
Last Updated: February 11, 2020