Greater Lyttonsville Sector Plan Design Guidelines
Overview
The Greater Lyttonsville Sector Plan Design Guidelines will provide a framework for the design of new and improved streetscapes, buildings, parks and open spaces in the plan area. They build on the recommendations in the Greater Lyttonsville Sector Plan, which was approved and adopted in 2017.
Working Draft
View the working draft of the Greater Lyttonsville Sector Plan Design Guidelines. Also, view the responses to comments document to see how comments were incorporated into the working draft.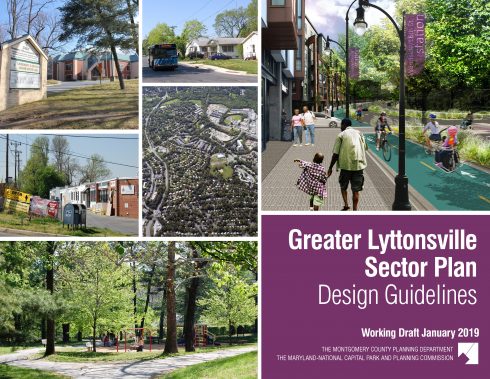 Schedule
Ongoing: Stakeholder Working Groups
Dec 6, 2018: Planning Board Briefing
Jan 31, 2019: Release of the Working Draft
Feb 20, 2019: Drop-in hours at the Coffield Center (see below for more information)
Mar 21, 2019 (tentative): Planning Board Work Session
Drop-in Hours
On Wednesday, February 20, the public is invited to learn more about the guidelines through informal discussions with planners during drop-in hours at the Gwendolyn E. Coffield Community Center (2450 Lyttonsville Road, Silver Spring, MD) from 2:30 to 7:30 p.m. (RSVP to laura.shipman@montgomeryplanning.org with the time you plan to attend).
Frequently Asked Questions
What are design guidelines? Design guidelines help shape the way that we experience our streets, public open spaces and buildings. Addressing both private developments and public improvements, the guidelines ensure that new developments will fit into the neighborhood. They show specific ways of achieving design goals and provide stakeholders with a clear framework for reviewing projects.
Will this document make changes to the Greater Lyttonsville Sector Plan? The guidelines will not revise the recommendations in the sector plan but rather build on them. For example, the sector plan recommends maximum heights and densities for several sites in the area and the guidelines will outline how new buildings on these sites should look and relate to someone walking on a nearby sidewalk or playing in a park.
How can I get involved in the development of the design guidelines? The Montgomery County Planning and Parks Departments are meeting with stakeholders from the community throughout the process to develop the guidelines. Planners will hold drop-in hours at the Gwendolyn E. Coffield Community Center after the release of the Working Draft for the community to discuss their comments and questions with Planning Department Staff. There will also be a briefing and work sessions with the Montgomery County Planning Board that will be open to the public. Dates for these meetings will be posted on this website and the Planning Board agenda website.
How can I participate in the review of proposed projects? The Greater Lyttonsville Sector Plan and Design Guidelines outline the priorities for the development review process. Here is a an overview of how community members can participate throughout the regulatory review process: montgomeryplanning.org/development/get-involved/
Meetings
Stakeholder Meetings

Planning Board Meetings
Contact
If you have any questions or comments about the Greater Lyttonsville Design Guidelines, please contact Laura Shipman, Senior Planner/Urban Designer.
Last Updated: February 8, 2019