The Big Ideas Series: Discussions to Keep Montgomery County Thriving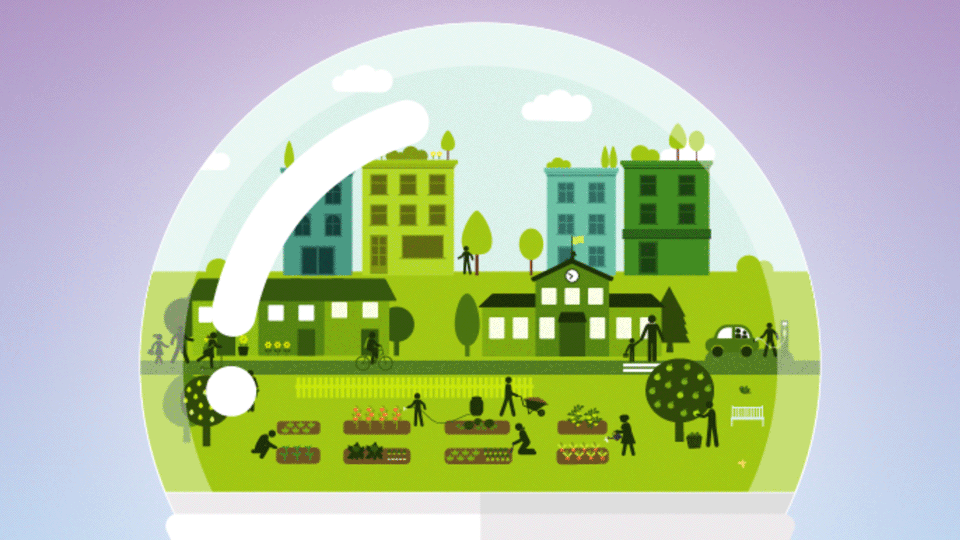 Thrive Montgomery 2050 Winter Speakers Series
The Montgomery County Planning Department is hosting a three-part "Big Ideas Series" held in January, February and March 2020 from 6 to 7:30 p.m. at the Planning Department Headquarters (8787 Georgia Ave., Silver Spring, MD). The series will feature speakers who will discuss ideas for planning for the future. The speakers' series  is  part of Montgomery Planning's  effort to update the county's General Plan, known as Thrive Montgomery 2050. RSVPs are encouraged but not required. The sessions include:
The 2020 Big Ideas Series will feature three moderated discussions on ideas about the evolving nature of food production and farming, how economic health relates to multimodal transportation and how to provide housing for all. The series is free and open to the public and planning professionals. Credits for certification maintenance (CM) for members of the American Institute of Certified Planners (AICP) and American Society of Landscape Architects (ASLA) attending the series are available.
About the Sessions
The Big Ideas Series will be held at the Planning Department headquarters (8787 Georgia Avenue, Silver Spring, MD) from 6 to 7:30 p.m. Sessions will also be available live and on-demand online.
---
The Future of Food: January 14, 2020

Big Idea Series session 1 recap

Watch the full video
Farming and farmland continue to evolve since the establishment of the Agricultural Reserve nearly four decades ago. While traditional agricultural activities, including grain farms and livestock operations have sustained, Montgomery County has more recently experienced an increase in tabletop food production, horticulture and agritourism industries. Furthermore, access to healthy food and overall health has a direct correlation to wealth, race and ethnicity in the United States. How can we provide healthy food access for all residents to foster an equitable, prosperous future in Montgomery County? Learn from experienced farmers working in urban, suburban and rural areas on how to plan for food production.
Panel:
Daryll Perkins, Director of Impact and Co-Founder of Broccoli City Festival
Mr. Perkins is a social enterprise developer focused on building sustainable, engaged, and thriving communities. He has over ten years of experience building social enterprises and national award-winning programs/campaigns that fight poverty and pollution, shift culture towards health and wellness, and mobilize people to action. As a co-founder of the Broccoli City Festival and Conference, he has mobilized his social business ventures to implement innovative programs and campaigns aimed at creating higher standards of sustainable living, environmental sustainability, renewable energy, economic opportunity, and access to high quality food and shelter in impacted communities.
Hannah Sholder, Co-Founder and Director of Land Stewardship at the Charles Koiner Center for Urban Farming
Ms. Sholder is a housing, community and economic development specialist. She has over ten years of experience working with individuals and organizations both internationally and domestically to support the creation of equitable, sustainable and inclusive communities. Hannah specializes in the creation of conservation land trusts and community land trusts, in order to remove land from the speculative market and preserve it for affordable housing, community-driven economic development, and urban agriculture. Hannah is a Fulbright Scholar, holds a BA from Wellesley College and has Master's degrees from UC Berkeley.  In 2016, Hannah started volunteering with Charlie Koiner, and over the course of three years tried to absorb as much of his farming wisdom as possible. In 2018, she co-founded the Charles Koiner Center for Urban Farming (CKC Farming) with the goals passing on Charlie's knowledge to the next generation and preserving his farm. Hannah now serves as CKC's Deputy Director, Interim Farm Manager and Program Director for Land Stewardship.
Ben Butler, Farm and Finance Manager, Butler's Orchard
Ben is a member of the third generation of Butler's. He returned to the family farm after graduating from the University of Maryland with a degree in Horticulture and Crop Production in 2010. Ben is responsible for day to day farm operations, crop production and long-term planning as well as overseeing the financial health of the company. He feels a personal commitment to be involved and give back to the community that has supported Butler's Orchard for nearly seven decades. Ben has an endless desire for knowledge and is dedicated to growing the finest, most nutritious fruits and vegetables possible for his family and yours. He strives to advocate for the agricultural industry serving on the Board of the Montgomery County Agricultural Center, working with the Montgomery County Agricultural Fair, and participating in Montgomery County Young Farmers, and the Young Growers Alliance, and the  LEAD Maryland Class X. Ben is proud of our agricultural heritage and humbled by the legacy and reputation of the Butler name within the community.
Greg Glenn, Co-Founder, CEO, Education Director, Farm & Livestock Manager of Rocklands Farm Winery
Mr. Glenn studied Agriculture & Applied Economics at Virginia Tech University, where he discovered his passion for farming and establishing a local food system. In 2003, Greg and his family moved to Rocklands Farm, where he oversees the entire operation, as well as directly manages the land, livestock, meat & education operations. Rocklands Farm Mission: Feed – Stewarding the land and cultivating the harvest through Holistic regenerative agriculture. Nourish – Providing products and experiences that renew and refresh the mind, body and soul. Engage – Immersing our community with their food origins; the who, where, how and why it all matters. Rocklands Farm Philosophy: Through Holistic management, Rocklands Farm Winery exists to feed, nourish and engage our community. Holistic management balances the social, economic, and environmental factors for the success of the whole operation, including the greater community and ecosystem. As stewards of our families, community & land, we utilize regenerative practices, which honors the successes of the past, creates value today, and builds future-capacity for those of a generation we may never meet. We are passionate about what we do and happy to share this experience with our community.
Moderator:
Caroline Taylor, Executive Director, Montgomery Countryside Alliance
Ms. Taylor has worked on environmental and agricultural issues for much of her professional career, including working with a talented group of lawyers and advocates at National Wildlife Federation on a wide range of cases and issues, such as: Spotted Owl, Key Deer, Exxon oil spill, food policy, forest preservation and water resources. Yet, her passion has always been local issues, including protection of the Montgomery County Agricultural Reserve's natural resources and working lands. Caroline comes from a long line of farmers and ranchers from Pennsylvania, Virginia and Idaho. Growing Legacy, Caroline's second film project, aims to both educate and inspire the many, who through the simple act of eating, practice agriculture. She actively participates on behalf of Montgomery Countryside Alliance on County committees to advance a strategic plan for food production, composting, agritourism and a long range zero waste policy and implementation plan.
---
Multimodal Transportation and a Healthy Economy: February 11, 2020

Big Idea Series session 2 recap

Watch the full video
Montgomery County is home to a diverse and robust economy, and is a home to global companies, government sectors, and local businesses.  It will be necessary to continue to foster a culture of innovation and learning that propels our economy towards shared prosperity.    How can we ensure that streets become economically competitive places that move people, not just corridors for moving automobiles? Listen to an esteemed panel of experts lead this discussion on the future of multimodal transportation as it relates to economic development.
Panel:
Gabe Klein, Co-Founder, CityFi, former Commissioner of the Chicago and Washington D.C. Departments of Transportation
Gabe is the former Commissioner of the Chicago and Washington DC Departments of Transportation. In both cities he revamped technology platforms and government processes while focusing on putting people first vs. automobiles on city streets. This included launching two of the first and largest bikeshare systems in the U.S. and building protected bike lanes and better pedestrian infrastructure for vulnerable citizens citywide, as well as facilitating private services like carshare and rideshare that could help each cities mobility goals. Gabe honed his creativity and leadership skills working in business, including Zipcar, where he served as Vice President, Bikes USA as national Director of Stores and his own electric powered, organic food truck chain, On The Fly.
Post-government, and after an enriching fellowship with the Urban Land Institute in 2014, Gabe joined Fontinalis Partners as a Special Venture Partner on their $100 million 2nd fund. Gabe also advises governments and companies worldwide on innovation in cities including Singapore where Gabe has been a visiting fellow for the Centre For Livable Cities, working on creating a "car-lite" city-state.  In 2015, Gabe also published Start-Up City with David Vega-Barachowitz on Island Press, a manifesto on revamping how (and how fast) we innovate in cities and rethinking public-private partnerships with a triple-bottom line approach as technology shapes a dramatically different future.
Gabe sits on the boards of Streetsblog, Carma, and advisory boards of NACTO, Sensity Systems, Zendrive, and advises next-gen start-ups including Phone2Action and Transit Screen. As Commissioner, he has worked to bring a new Riverwalk to Chicago as well as the breathtaking Bloomingdale Trail, 100's of miles of bike lanes, new policies combined with technology solutions to revamp parking, permitting, and many other arcane government processes.
Veronica Davis, co-owner and Principal Planning Manager at Nspiregreen, LLC
Veronica Davis is a self-described transportation nerd. She believes all people should have access to safe, reliable, and affordable transportation. She has over 16 years of experience in civil engineering and planning. She is currently a co-owner and Principal Planning Manager at Nspiregreen LLC.
At Nspiregreen, she is responsible for managing the Multimodal Transportation and Community Planning projects, which includes surface transportation planning, policy development, and long-range planning. She was the Principal-in-Charge for the Vision Zero Action Plans for the District of Columbia and the City of Alexandria in Virginia. This includes guiding the team to develop strategies to prioritize the safety of people biking and walking.
Veronica is one of the co-founders of Black Women Bike (BWB), an organization and movement that encourages African American women to use biking for health and wellness as well as an alternative form of transportation for commuting. In less than two years the organization has grown to over 1,500 African American women ranging in age from late 20's to early 70's. She is also on the Board for America Walks.
She earned her dual Masters Degrees (Engineering Management and Regional Planning) from Cornell University.  She has a Bachelor of Science in civil engineering from the University of Maryland. She is a registered professional engineer in the District of Columbia, Maryland, Virginia, North Carolina and Georgia. In July 2012, the White House recognized her as a Champion of Change and Transportation Innovator for her professional accomplishments and community advocacy in the District of Columbia.
She currently lives in Washington, DC with her husband and dog.
Kim Lucas, Assistant Director of Transportation, City of Pittsburgh, PA
Kimberly Lucas is the Assistant Director for Policy, Planning and Permitting in the Departments of Mobility and Infrastructure. She worked previously in the Washington D.C. District Department of Transportation where she had been Supervisory Transportation Management Planner/Sustainable Transportation Branch Manager since 2018, and previously Bicycle and Pedestrian Program Specialist/Program Manager of Bikeshare and Bicycle Parking programs.
Lucas has a master's degree in City Planning from the University of California, Berkeley, and a bachelor's in Psychology & History of Art from the University of Virginia, Charlottesville.
Moderator:
Chris Conklin, Director of the Montgomery County Department of Transportation
Chris Conklin was confirmed as Director of the Montgomery County Department of Transportation (MCDOT) in 2019.  Conklin spent 23 years at the planning, engineering, and environmental firm VHB, where he most recently was Managing Director for the National Capital Region.  He is a recognized expert in multi-modal transportation strategy, planning, and engineering, stakeholder and public participation, project management, and team leadership.  During his career in the transportation industry, Conklin has worked with transportation organizations throughout the nation, including cities and towns, counties, states, regional transit agencies and federal agencies.
Conklin holds a Bachelor of Civil Engineering from the Georgia Institute of Technology, and two Masters degrees in Transportation and Technology Policy from the Massachusetts Institute of Technology. He has also held corporate leadership roles, including an elected term on VHB's Board of Directors, and has completed the American Council of Engineering Companies Senior Executive Institute leadership program.  In addition to being an accredited environmental sustainability professional, Conklin is a licensed professional engineer in Maryland and Massachusetts.
---
Housing for All: March 3, 2020 6 to 7:30 p.m.

Big Idea Series session 3 recap

Watch the full video
How can housing in the future become more affordable, address climate change, promote diversity and make beautiful communities with a strong sense of place? The City of Minneapolis recently adopted a bold new comprehensive plan that will transform the way the housing in the city will grow in the future. The plan allows the development of tri-plex housing citywide, eliminates minimum parking requirements, and allows more high-density housing along transportation corridors. Participate in an innovative discussion from national leaders in housing planning and development on big ideas to achieve this vision.
Panel:
Heather Worthington, Director of Long-Range Planning, City of Minneapolis, MN
Heather was appointed to the position of Director of Long Range Planning in September, 2017.  Previously she was the first Deputy County Manager appointed in Ramsey County in June 2010, where she led the Economic Growth and Community Investment service team.  She was the overall project manager for the cleanup and redevelopment of the Twin Cities Army Ammunition Plant (TCAAP), the state's largest Superfund site; as well as leading the redevelopment of the former West Publishing site in downtown St. Paul.
With more than 20 years of leadership in local government organizations, including City Administrator of Falcon Heights, MN and Assistant City Manager of Edina, MN, Heather is committed to seeking authentic community engagement and leading racial equity efforts to strengthen communities that have experienced disparities and disinvestment.  She holds a master's degree in public administration from Hamline University, a BA in History/Historic Preservation from Michigan State University, and a certificate for the State and Local Executives Program from Harvard University's Kennedy School of Government.
Gwen Wright, Director of the Montgomery County Planning Department
Since July 2013, Gwen Wright has been the Director of the Montgomery County Planning Department of the Maryland-National Capital Park and Planning Commission. In this role, Ms. Wright oversees a wide range of projects that aim to improve the quality of life in Montgomery County by conserving and enhancing the natural and built environment. Montgomery County is one of the largest jurisdictions in Maryland with over 1 million residents and has a key role in the dynamic Washington D.C. metropolitan growth area. Ms. Wright also worked for the Montgomery County Planning Department from 1987 to 2008. During this period, she served as the Chief of Countywide Planning, including supervising the Environmental Planning, Transportation Planning and Historic Preservation Sections, as well as serving as Acting Planning Director.
Prior to her appointment as the Montgomery County Planning Director in 2013, Ms. Wright was Chief of the Development Division for the City of Alexandria Department of Planning and Zoning for five years. In this position, she reviewed development proposals throughout the City of Alexandria and shepherded a wide variety of projects – from urban infill to major brownfields reclamation – through the regulatory process and implementation.
Ms. Wright began her career in Texas as the Director of Architectural Design and Redevelopment for the Galveston Historical Foundation in Galveston, Texas. She has degrees in Architecture and Architectural History from Yale University and has spoken at numerous national and regional conferences on a wide variety of planning issues.
Ms. Wright lives in the Cleveland Park neighborhood in Washington D.C., where she is co-chair of the Cleveland Park Historical Society Architectural Review Committee. She is a member of Lambda Alpha and a graduate of ULI Washington's Regional Leadership Institute.
Stacy Spann, Executive Director of the Housing Opportunities Commission
Stacy Spann is the Executive Director of the Housing Opportunities Commission. Mr. Spann joined the Commission in February 2012.
Prior to joining HOC, Mr. Spann was the Executive Director of Howard County Housing (which includes the housing commission and the county's Department of Housing and Community Development.) Mr. Spann drafted and implemented the county's Affordable Housing Strategic Plan, doubled the size of the housing unit portfolio and engineered the county's first mixed income development.
In addition to overseeing the Department of Housing and Community Development and Housing Commission in Howard County, Mr. Spann's background includes serving as the assistant commissioner of development finance in Baltimore from 2004 – 2006, where he managed and oversaw five offices, including Community Development Block Grant, the Office of Home Ownership, and Office of Project Finance.
Mr. Spann was named in October 2010 as Affordable Housing Finance magazine's "Young Leader" award recipient.
Mr. Spann is currently an adjunct professor of the Capstone Course Masters Program in Real Estate at the University of Maryland at College Park in the School of Architecture, Planning & Preservation. He also is a member of the Professional Development Faculty at the National Association of Housing & Redevelopment Organizations (NAHRO), where he teaches "Introduction to Mixed Finance for Public Housing Authorities," a course he designed for housing authorities, non-profits and local and federal governmental entities throughout the U.S.
Mr. Spann holds a BA degree in Business Administration from Morehouse College and a Masters of Public Administration in Advanced Management and Finance from Columbia University School of International and Public Affairs.
Moderator:
Tanya Stern, Deputy Director of the Montgomery County Planning Department
Tanya Stern is Deputy Planning Director at the Montgomery County Planning Department where she oversees five divisions providing countywide policy development and data analysis for zoning, growth management, transportation planning, historic preservation and housing; real estate and economic analysis and population forecasting; and department-wide services including human resources, budgeting, GIS and information technology and communications. She also is serving as an advisor for Montgomery County's General Plan Update, Thrive Montgomery 2050, launched in 2019.
Ms. Stern previously served for 14 years in the Government of the District of Columbia.  She spent eight years at the DC Office of Planning (OP), most recently as Deputy Director overseeing OP's Neighborhood Planning and Design divisions. While in that role, she also served as Project Director to launch DC's current Comprehensive Plan update. She led the creation of new planning policies to integrate the topic of resilience throughout DC's Comprehensive Plan, oversaw updates to the Plan's land use, urban design and 10 geographic area policy chapters and evaluated proposed plan amendments from the public.  Ms. Stern's District government experience also included serving as OP's Chief of Staff, in agency program and performance management and budget development roles in other District agencies, including the Executive Office of the Mayor, and as a community planner for the DC Department of Parks and Recreation. Additionally, she has 11 years of non-profit sector experience.
Ms. Stern holds a master's in city planning from the University of Pennsylvania and is certified through the American Institute of Certified Planners and as a Certified Public Manager. She also is a member of Lambda Alpha International, the Honorary Society for the Advancement of Land Economics, and the Urban Land Institute (ULI). Ms. Stern is currently the co-chair of the ULI Washington District Council's Placemaking Initiative Council and co-chair of ULI Washington's Initiative Council Steering Committee.
Last Updated: March 6, 2020