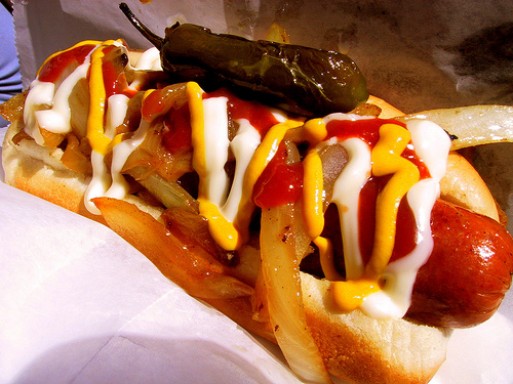 For a County with few options when it comes to food cart dining, their potential sure has garnered a lot of attention. While I've always supported the idea of street vendors, much like I've supported the Washington Nationals since they moved to town – quietly, from a distance, without much thought – today I found new reason to throw my support behind sidewalk food sales.
After a meeting downtown this morning, I walked out of a drab, aging K Street office lobby overcome by hunger. In the block and a half between me and the Farragut North Metro entrance were three separate carts, each peddling their own heat-lamp and steam-cooked delicacies. My mouth watered. My stomach growled. My saliva salivated.
I had a half-smoke with mustard and sauerkraut. At ten-fifteen in the morning. For a buck seventy-five.
Fresh.
It was delicious.