Countywide Transit Corridors Functional Master Plan
Amendment to the Master Plan of Highways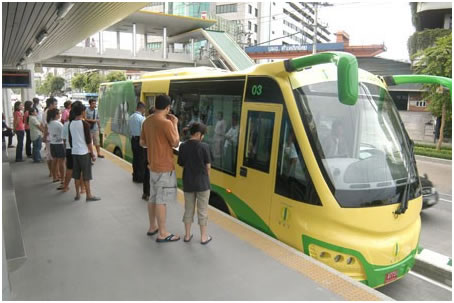 Planners are working on a bus rapid transit (BRT) network to improve accessibility and mobility throughout Montgomery County. BRT is similar to light rail operations, but runs on county roads.
On July 11, 2013, the Planning Board approved the transmittal of the Planning Board Draft of the Countywide Transit Corridors Functional Master Plan to the County Council.
Purpose
This Plan provides enhanced opportunities for travel by transit to support Montgomery County's economic development and mobility goals in an environmentally sustainable way, and in a way that preserves our existing communities. As a Functional Master Plan, it makes no changes to current planned land use or zoning, but recommends changes and additions to the transportation network that are needed to serve the County's most densely developed areas, areas planned for redevelopment, and areas planned for new dense development.
Background
View the project Scope of Work (3.8 MB), which the Planning Board reviewed on September 22, 2011. The starting point for this effort was the 16 corridors recommended in the Countywide Bus Rapid Transit Study performed by MCDOT. The County Executive's Rapid Transit Task Force subsequently recommended (1.4 MB) studying additional corridors in the BRT network.
Jarrett Walker, an author and international consultant on public transit planning and policy, participated in the Planning Department's speaker series on February 7, 2012, making the case for focusing on network design and maximizing the usefulness and reach of quality transit service. View Walker's presentation.
Transit Corridor Network Map
This map below shows the 10 corridors that are included in the Planning Board Draft of the Countywide Transit Corridor Functional Master Plan. The network reflects the following changes:
Recommended Corridors

Corridor Number

Corridor

From

To

Route Length
(miles)

Number of Stations

Recommended Corridors

1
Georgia Avenue North
Montgomery General Hospital
Wheaton Metrorail station
9.5
13
2
Georgia Avenue South
Wheaton Metrorail Station
District of Columbia line
3.7
8
3
MD 355 North
Redgrave Place
Rockville Metrorail station
14.1
20
4
MD 355 South
Rockville Metrorail Station
District of Columbia line
9.3
14
5
New Hampshire Avenue
Colesville Park & Ride
District of Columbia line
8.5
12
6
North Bethesda Transitway
White Flint Metrorail Station
Montgomery Mall Transit Center
2.7
7
7
Randolph Road
White Flint Metrorail Station
US 29
10.1
11
8
University Boulevard
Wheaton Metrorail Station
Takoma/Langley Transit Center
5.5
9
9
US 29
Burtonsville Park & Ride
District of Columbia line
11.0
11
10
Veirs Mill Road
Rockville Metrorail Station
Wheaton Metrorail Station
6.2
11
Overall System Total
81
101*
Transportation Modeling
The travel forecasting effort performed for the Functional Plan provided estimated ridership for various scenarios on up to 17 corridors for the purposes of determining potential transit ridership for the 2040 forecast year. These results were used to identify right-of-way needs along recommended corridor segments.
The Maryland Alternative Analysis II (MDAAII) Model used in the modeling was the same as that used for the Purple Line and Corridor Cities Transitway projects. It uses a transit mode choice routine and a complete four-step model process to develop ridership estimates for those transit modes. In consultation with local bus service providers -WMATA and Ride-On, an updated local bus network was developed to reflect how local bus service would be altered to coordinate with BRT service.
Highway network and demographics data are based on a version of the Metropolitan Washington Council of Governments (MWCOG) model that used the same 2,191-zone structure as the MDAAII model. MWCOG's land use Round 8.1 was used for the forecasts and summarized to the 2,191-zone structure.
Recommendations
The Countywide Transit Corridor Functional Master Plan's recommendations include:
Transit facilities along ten corridors to facilitate Bus Rapid Transit (BRT) service that will move more people to and from jobs, homes, shopping, and entertainment areas in urbanizing parts of the County, while making more efficient use of our public rights-of-way and existing pavement.
Pedestrian facilities that meet ADA Best Practices and provide safe and adequate accommodation along and across the recommended transit corridors, ensuring that transit patrons can safely cross to and from transit stops and that the general public can safely cross these roadways at all intersections.
Accommodating all master plan bikeways within the recommended rights-of-way and accommodating additional on-road bike facilities where possible.
Designating more than two dozen Bicycle-Pedestrian Priority Areas around major transit stations, several of which are included in the County's initial round of proposed bikeshare stations.
A third track on the MARC Brunswick Line between the Frederick County line and the Metropolitan Grove station to reduce conflicts with freight service and enabling the expansion of commuter service, as recommended by the Maryland Transit Administration's Growth and Investment Plan.
Transportation planner Larry Cole sheds light on the draft Countywide Transit Corridors plan in this excerpt from the Montgomery Plans cable show.

Project schedule
The Planning Board Draft was approved on July 11, 2013. Key milestones in the Countywide Transit Corridors Functional Master Plan included:
| | |
| --- | --- |
| September 22, 2011 | Planning Board approves draft Scope of Work |
| February 2012 | Planning Board approves revised Network and Methodology Report |
| November 2012 | Planners release preliminary recommendations and discuss them with the Planning Board |
| November 2012 | Planners hold public information meetings |
| March-April 2013 | Planners complete public hearing draft |
| May 2013 | Planning Board holds public hearing |
| Spring 2013 | Planning Board holds worksessions |
| July 2013 | Planning Board transmits final draft plan to County Council |
Upcoming events
November 26, 2013: County Council to approve Plan
December 5, 2013: Planning Board to transmit Plan to full Commission
December 18, 2013: Maryland-National Park and Planning Commission Council to approve Plan
Past events
More ▼
Weigh in
Let us know what you think using our comment tool. Planners will consider comments as they develop plan recommendations.
blog comments powered by

Disqus
M-NCPPC Staff Contact
Larry Cole, Functional Planning & Policy Division
301-495-4528
Larry.Cole@montgomeryplanning.org
David Anspacher, Functional Planning & Policy Division
301-495-2191
David.Anspacher@montgomeryplanning.org
Last updated: November 20, 2013