Intercounty Connector Bicycle Route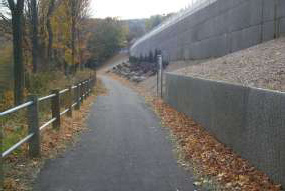 In March 2009, the County Council approved the Intercounty Connector Limited Functional Master Plan Amendment: Bikeways and Interchanges — also known as the ICC Bikeway Plan. View the approved and adopted plan [PDF](4.2 MB).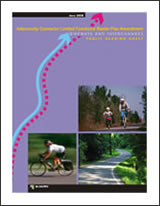 The plan creates a hiker-biker trail along the general route of the Intercounty Connector from Shady Grove Road to the Prince George's County line. The trail (SP-40 in the Countywide Bikeways Functional Master Plan) has long been identified in County master plans as part of the proposed ICC.
Background
When the SHA published its final ICC plan, called a record of decision, it recommended seven miles of the trail to be built as part of the ICC. That decision also included a bicycle and pedestrian plan that identifies a route for the trail's remaining 11 miles along parallel roads.
County transportation planners studied:
How to implement the SHA bicycle and pedestrian plan
Whether the SHA bicycle and pedestrian plan presents a safe alternative to the route the county identified for users of all ability levels
How to best link the portions of the county-identified route that were not included in the SHA bicycle and pedestrian plan
Whether to remove from county master plans segments of the path passing through parkland
Montgomery County Planning Board's Role
In 2008, the Montgomery County Planning Board approved the hiker-biker trail study, which connects existing and planned county bikeways and sidewalks to bicycle transportation hubs, such as the Shady Grove metro station and popular county parks like Olney Manor and Northwest Branch. As part of the study, planners developed a comprehensive bikeway plan amendment to address those issues, particularly in light of the route's path through some of the county's most environmentally sensitive stream valley areas. The study will result in an amendment to two county plans: the Countywide Bikeways Functional Master Plan and the Countywide Park Trails Plan.
Among their priorities, planners developed a route that accommodates pedestrians and novice bicyclists as well as expert cyclists and avoid constructing paved trails in environmentally sensitive areas such as Upper Paint Branch Stream Valley Park.
Seven miles of the route will be a hard-surface trail built by the state in the highway's right-of-way. The remaining 11 miles will either follow existing roads or run parallel to the highway within parkland and remain flexible enough to minimize its environmental impact. See the State's ICC website for more information and a trail map.
The study also examined potential designs and locations for two interchanges: at Briggs Chaney Road and a future connection with Mid-County Highway.
View project history.
Last Updated: December 8, 2016