NAIOP DC-Maryland Chapter Honors Montgomery County Planning Department with Best of the Best Award for Excellence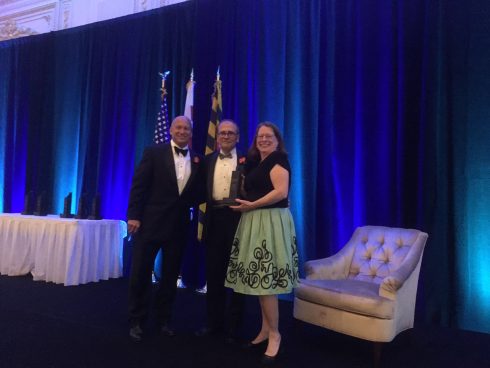 Planning Director Gwen Wright receives honor at annual awards of excellence gala held by commercial real estate organization on October 5
SILVER SPRING, MD – The Montgomery County Planning Department, part of The Maryland-National Capital Park and Planning Commission (M-NCPPC), is proud to announce that the DC-Maryland chapter of NAIOP (National Association for Industrial and Office Parks) has honored the Department with its Best of the Best Award in Excellence in Quality Land Use and Collaboration in Urban Design. Planning Director Gwen Wright accepted the award at NAIOP DC-MD's 15th annual Awards of Excellence gala held on October 5, 2017 in Washington, DC.
"Under the leadership of the Montgomery County Planning Director and Planning Board, the Planning Department and M-NCPPC have led our region in encouraging high quality, transit-oriented development through the master planning process," said NAIOP DC-MD Executive Director Sally Modjeska. "The Planning Department and M-NCPPC work in a collaborative manner with developers in seeking engagement and examining best practices throughout the country."
The Montgomery County Planning Department is one of six winners of the 2017 Best of the Best Award and the first governmental entity to be awarded this honor. "We are thrilled to receive this award for our land use and urban design work," says Wright. "This year marks the 90th anniversary of the M-NCPPC, so it is particularly meaningful for the Department and our Commission to be honored now. We are proud to carry on its mission of planning in a smart, sustainable way to improve people's lives in the region."
About The Maryland-National Park and Planning Commission
The Maryland-National Capital Park and Planning Commission (M-NCPPC) is a bi-county agency empowered by the State of Maryland in 1927 to acquire, develop, maintain and administer a regional system of parks within Montgomery and Prince George's Counties, and to provide land use planning for the physical development of Prince George's and Montgomery counties. In addition, the agency gained responsibility for the public recreation program in Prince George's County in 1970. The governing body of M-NCPPC consists of 10 members, 5 appointed by Montgomery County and 5 by Prince George's County. The Commission coordinates and acts on matters of interest to both counties, and meets at least once a month. The members of the Commission from each county serve as separate Planning Boards to facilitate, review and administer the matters affecting their respective counties. M-NCPPC administers a park system of more than 52,000 acres. It is composed of stream valley parks, large regional parks, neighborhood parks and park-school recreation areas. Its staff of career employees includes planners, park and recreation administrators, park police and administration staff. In addition, seasonal workers staff numerous park and recreation programs.