Chevy Chase Lake Sector Plan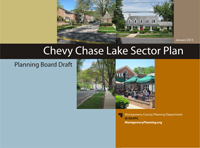 On January 25, the Planning Board transmitted the Chevy Chase Lake Sector Plan Planning Board Draft (4 MB fast-download version) to the County Executive and County Council. For a full resolution file, contact us.
Background
Recommendations for Chevy Chase Lake, a community of mixed housing types and commercial strip centers along Connecticut Avenue just north of Washington, D.C., are part of a community vision that revises the 1990 Bethesda-Chevy Chase Master Plan.
Chevy Chase Lake is one in a series of land use plans that set design and development patterns in Purple Line station areas. Planners focused on land use and zoning recommendations as redevelopment occurs around the proposed Purple Line station at Chevy Chase Lake Drive and Connecticut Avenue.
In 1890, Senator Francis G. Newlands established the Chevy Chase Land Company, which led development as Connecticut Avenue was extended north of the Washington, D.C., line. Chevy Chase Lake was formed when a small dam was constructed across Coquelin Run stream to supply water for an electric power plant.
The community grew around the lake about two miles north of the District line at the junction of a trolley line and the Baltimore and Ohio Georgetown Branch. The area included several businesses, an amusement park, and from 1925 to 1972, a swimming pool. For Chevy Chase residents, "the lake" enjoyed a particular community significance.
Project schedule
Upcoming
The County Council's Planning, Housing, and Economic Development (PHED) Committee's tentative schedule of worksessions on the sector plan:
June 10, 2013
June 17, 2013
June 24, 2013
Early July: County Council consideration
Past meetings
More ▼
Contact
Elza Hisel-McCoy
301-495-2115
Elza.Hisel-mccoy@montgomeryplanning.org
Date of last update: May 10, 2013