rethink
Last night, Joan Almon, Executive Director of the Alliance for Childhood, reminded us of the importance of mud puddles.
She began by outlining the importance of play (that is, undirected messing around, preferably outside). It helps children develop negotiation and social skills, and coordination between their brains and hands. They learn to wonder, concentrate, and overcome challenges.
But these days, children 6-8 years old spend only 12 percent of their time outdoors. Children 10-16 spend only 12 minutes a day in vigorous physical activity, but 10 hours a day in sedentary activities (is that an oxymoron?). You won't be surprised to learn that they spend a whopping 53 hours a week (about 7 hours a day) with media–whether its computers in the classroom or wii at home.
We intuitively know this is a problem–teachers see the wound up kids who don't get recess and parents wistfully recall the days when they were sent outside and told to be home in time for dinner.
But even though we are more fearful and time-pressed, it is possible to fit play back into children's (and our own) lives. Almon described playworkers who are present but invisible in playgrounds, lightly supervising to ensure general safety. Royce Hanson mentioned the role of "park aunts" (and uncles), retired folks who volunteer to be the adult who provides formal/informal supervision.
Almon made the point that these types of ideas are simple (certainly no more complicated than setting up a soccer league) but very effective.
Other ideas that came up: Takoma Play days, geo-caching, and the worst mother in America. But instead of clicking those links, how about going outside for a hike? Maybe you'll see a turtle!
There's a new approach to that great American pastime–consumption–that may inspire thrift and creativity. As part of the Rethink speaker's series, we heard from  Adeela Abbasi with the Restore, Ruthie Mundell with Community Forklift, and Jason Holstine with Kensignton's Amicus Green Building Center.
Restore and Forklift resell used and usable building materials from doorknobs to floor joists. And they accept donations, from a contractor who ordered the wrong item or a homeowner sick of storing the half box of tiles from a years-ago bathroom renovation.
Amicus does all the homework to help you make the best green building decisions for your lifestyle and budget. Jason pointed out that often the inexpensive and least sexy option is the best–think insulating before geo-thermal.
We were all inspired by the passion that these three bring to their work, not only the primary benefit of sustainability, but the secondary benefits of building and serving all members of our community.
The next free Saturday I have, I'm going to follow tips on the Amicus Spring Greening List, including cleaning the fridge coils and getting a new HVAC filter. Then I'm heading up to the Restore to deliver a half box of little blue glass bathroom tiles (circa 2001) and another half box of ceramic kitchen backsplash tiles (circa 1989). Who knows what I'll come home with!
By the way, this week's speaker's panel on culture features Tebabu Assefa who works in the Ethiopian community, Rassa Davoodpour who is a leader in the Persian community, Megan Moriarty with IMPACT Silver Spring, and Reemberto Rodriguez with the Silver Spring Regional Center.
Straight Line Blog Post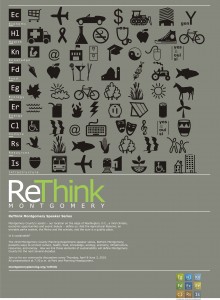 The Planning Department's Rethink effort started last night with a blogger panel featuring David Alpert of Greater, Greater Washington; Dan Reed of Just Up the Pike; Barnaby Zall of Friends of White Flint; Cynthia Cotte Griffiths of RockvilleCentral.com; and Eric Robbins of ThayerAvenue.com.
Two ideas in the discussion struck me. The first was Dan Reed's passion for his community and the sense of justice that prompted him to start blogging. His reporting recounted Maryam Balbed's some success in connecting the Silver Spring skater kids to the planning process through his blog. This is the kind of outreach planners know that must do to create a valid plan, but don't always achieve.
Connecting to a larger community through blogs may be one way to get beyond the "white, middle-class, retired" people who Reed sees as making decisions for communities they may not be part of.
But even if you can engage a community, you need to be able to talk to them. One of the bloggers pointed out that "three quarters of planning lingo is unintelligible." Barnaby Zall admitted he didn't know what FAR meant when he started blogging about White Flint. And David Alpert explained that blogs allow the time to educate and build a constituency over time. He urged planners to share the "micro-decisions" that go into a plan or project, rather than just delivering a final document.
Planners will protest that they send notices, set up committees, and have community meetings, but if you can't transcend the bureaucracy, says Reed, you won't be able to transcend the anger it can generate.
The panel provided good insight into techniques, communication, and community that I hope we can incorporate into our work.